Introducing The Appy Hour Talk Show by App Growth Summit! (Season 1)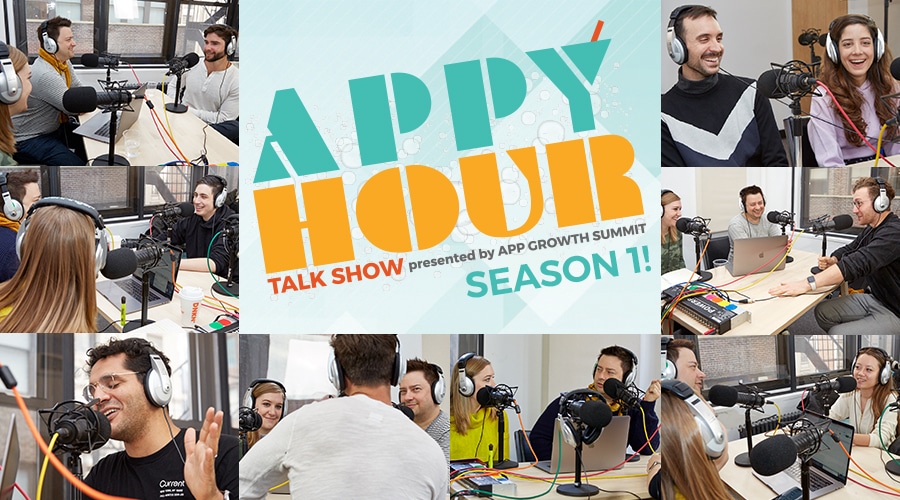 There are many podcasts out there. Many smart ones, good ones, and a few that are…let's just say…MEH. All of the podcasts for the mobile app industry are focused on guests' jobs. What they're working on, or what their views on a certain current topic are, etc. These podcasts are essentially interviewing the person's job and role in their company, with a little bit about them as a professional. Then there are sponsored episodes where the guest just talks about their product the entire time and what is essentially a native advertisement. Very rarely, however, do we ever learn about the people in the mobile app growth industry.
Here's where The Appy Hour Talk Show by App Growth Summit stumbles into the room with a drink in our hands! The drink of choice is up to you, but we're having a good time regardless. We want to know who these experts are, what makes them tick, trade anecdotes, and most importantly…enjoy the ride, however windy, bumpy or crazy it gets!
We do have a segment in every podcast called, "Talk Nerdy To Me," where we will talk some tech. This way, we can justify their time away from working to be our guest as "work-related adjacent." We are striving to be always fun and semi-informative.
If you've even been to any of our App Growth Summit events, you'll know our events are the most fun, informative, and community-based events out there. We are invite-only, limited-vendors, and cater to our VIP attendees with the white-glove treatment they deserve!
Now that we're not able to produce any more in-person events for 2020 and into the first part of 2021, we've pivoted successfully to continue this vibe online. We didn't like the boring and disjointed online event platforms out there. They didn't have that same vibe we want to be known for…so…we built our own Virtual Event Platform from scratch! Only at AGS Virtual Summits can you find that same fun, interactive, and all-in-one-place experience that keeps attendees engaged and keeps the conversation flowing!
Speaking about conversations…let's talk about Season 1, shall we?
---
Season 01 – Episode 01: Adam Hadi, Current
Release Date: August 6, 2020
Adam Hadi is the VP of Marketing for Current, the mobile bank FinTech app. In this show, Adam talks to us about learning languages, looking for homes in NYC, marital longevity, and how to fix the NY Knicks. For our Talk Nerdy to Me segment, we'll discuss personalized marketing for your customers.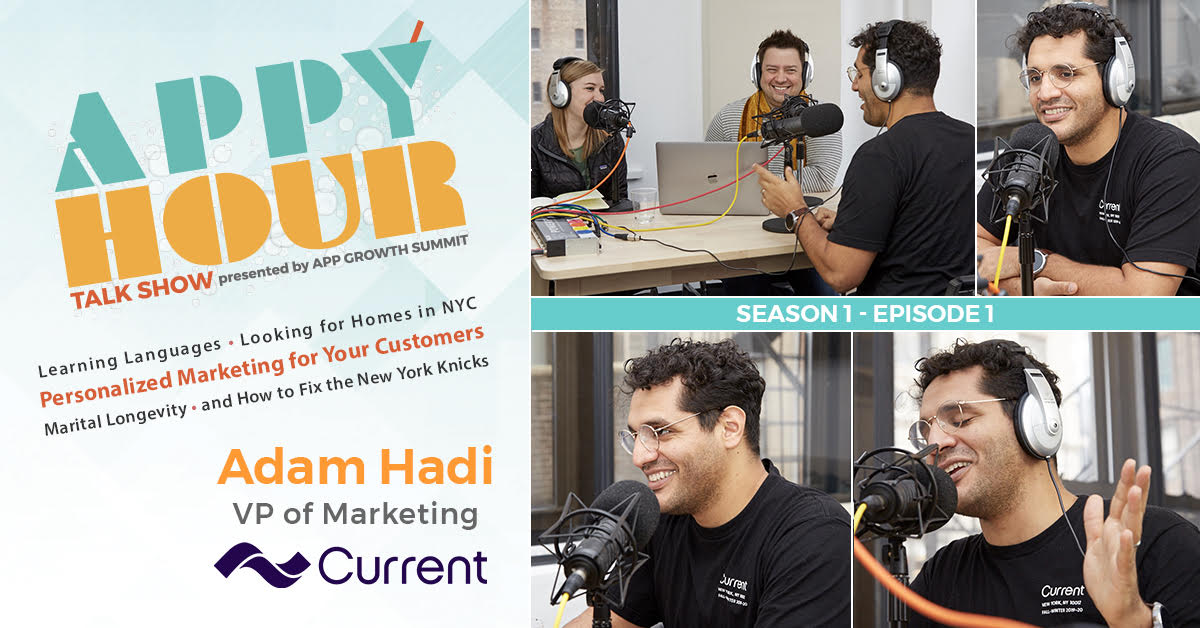 ---
Season 01 – Episode 02: Adrian Sarasa & Deniz Varol, letgo
Release Date: August 13, 2020
Adrian Sarasa (Director of UA) and Deniz Varol (UA Manager) from letgo join us in our second episode! Letgo is a marketplace app for second-hand buying and selling. Adrian and Deniz give us a first-hand account of how many tattoos they might have, the joy of dogs in offices, the importance of fitness/yoga/martial arts as a way to balance your mind and your life, and call attention to the essential requirement of doing what we can to progress diversity in tech for greater inclusion and acceptance. For their Talk Nerdy to Me segment, we'll dip our toes into the Retargeting and Attribution in UA waters.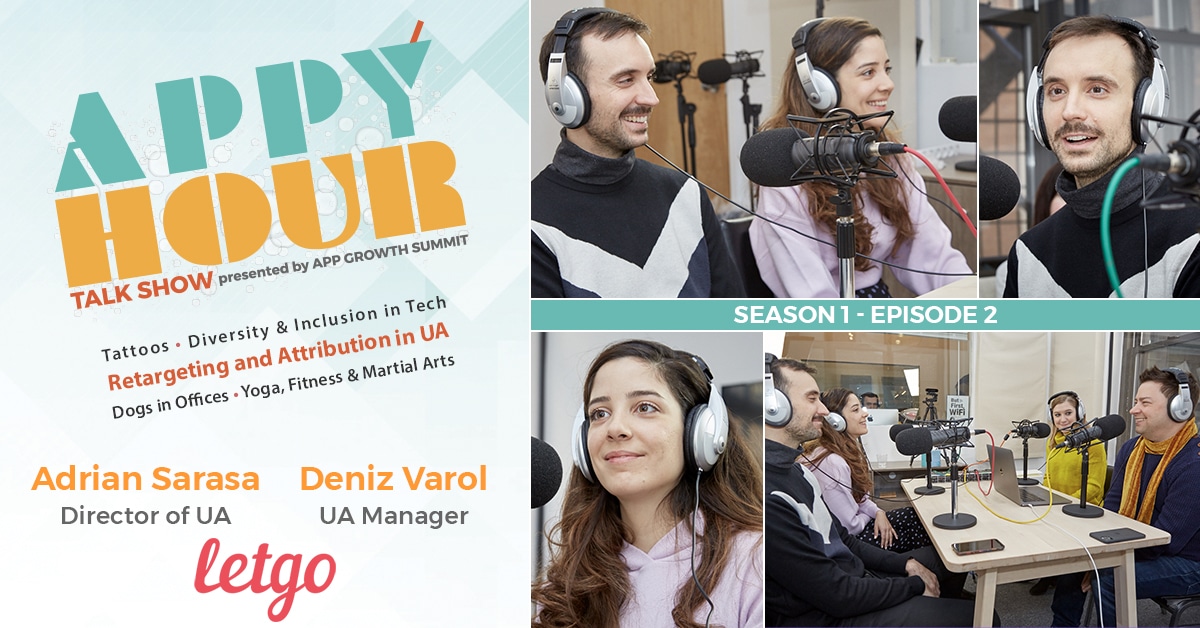 ---
Season 01 – Episode 03: Alex Merutka, Craftsman+
Release Date: August 20, 2020
Alex Merutka, CEO & Founder of Craftsman+ is our third ever guest! In this episode of wide-ranging topics, Alex will explore with us his many instances of accidental self-injury, be it playing volleyball like Ice Man and Maverick (shirts and baby oil optional), swimming with sharks while having a bloody nose, or ignoring friendly advice and sliding down an entire icy staircase. No one was injured in the making of this podcast, thankfully, as we also discussed bartending for celebrities, getting decked out in all-swag attire, and of course, learning all about being a "Dragon Bro." Alex did talk nerdy with us, too, and his POV was on changing the game of mobile ad creative. How he finds time for all this, we'll maybe never know.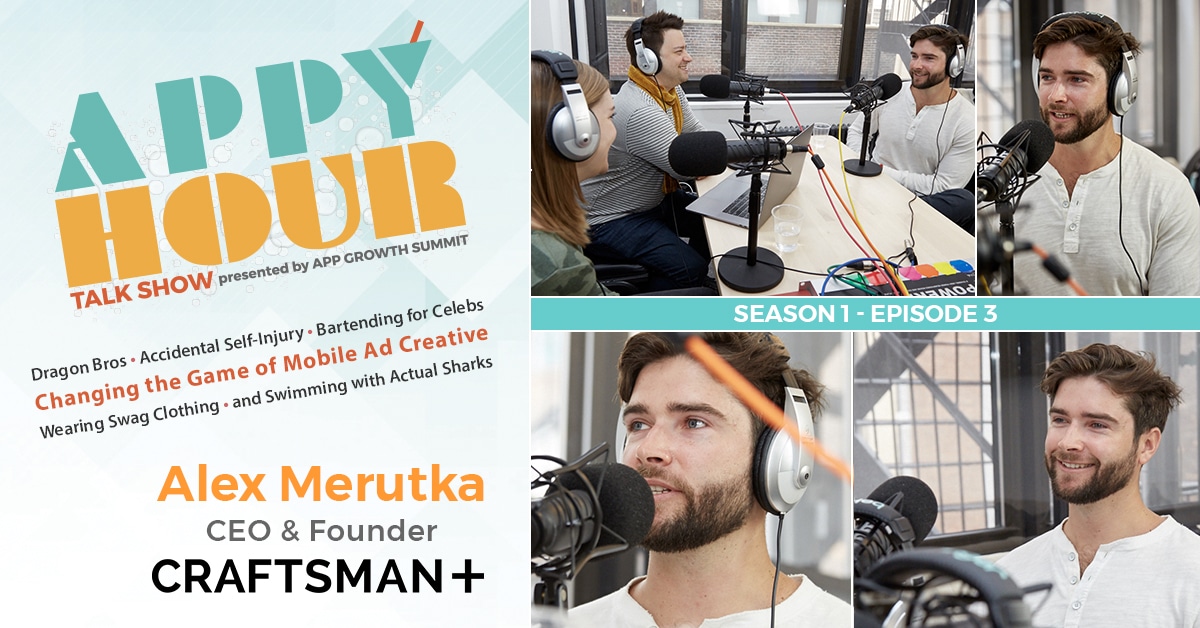 ---
Season 01 – Episode 04: Siberia Su
Release Date: August 27, 2020
Our next guest for Season 1 of The Appy Hour Talk Show is none other than Siberia Su, who is now the Head of Growth for MobilityWare's Jump Ramp Games Group, and Founder of the PPE marketplace and donation platform MRACLE2020. Siberia is a huge favorite in the mobile app industry. She'll share a more personal anecdote about the trials and tribulations of losing a job while on a work visa and having to race to find a new job with the deadline running out. Hear how a large segment of the mobile app industry came to help and how she was able to stay calm, focused and positive through that very stressful time. We continue Season 1 with more of an inspirational twist, and we do find a few fun moments as well. This is an Appy Hour episode, after all.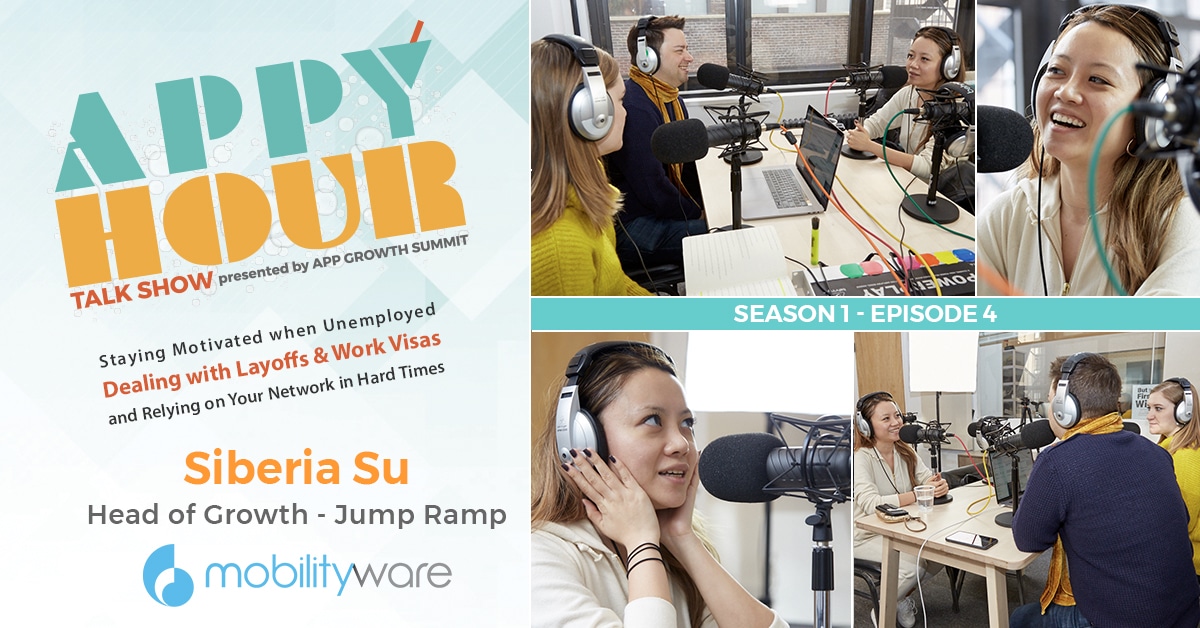 ---
Season 1 – Episode 05: Andrew Birnbryer
Release Date: September 3, 2020
Andrew Birnbryer, Startup Advisor & Mobile Consultant, brings his energy to the podcast room, and into your ears to espouse the massive sweetness of kisses from grandma as well as his Sneaker Head affinity for fancy and fun podiatric coverings. We'll also discuss New York Pizza. For our tech talking segment, Andrew Talks Nerdy to us about the massive potential surrounding location-based targeting.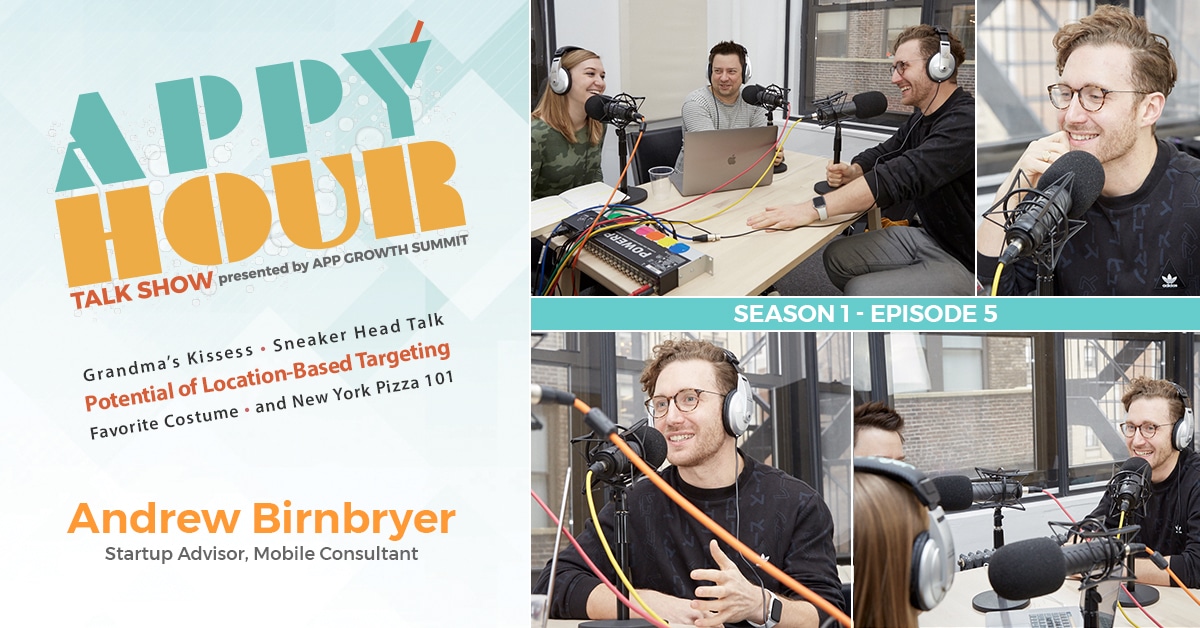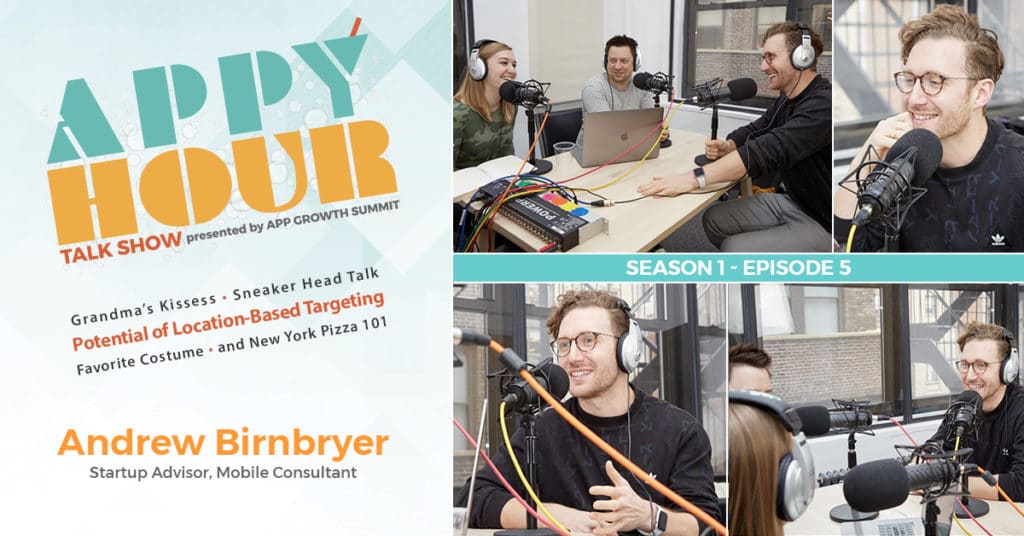 ---
Season 1 – Episode 06: Matt Sadofsky, Equinox
Release Date: September 10, 2020
Our last, but certainly not least, guest of Season 1 of The Appy Hour Talk Show is none other than Matt Sadofsky, Head of Growth & Retention for Equinox; and formerly with Tidal, Tilting Point, and Studio. Matt joins us to recognize the importance of improv classes for almost literally everyone in any profession. We'll learn about monthly subscriptions to lactose pills, and pass a few dad jokes around the podcast table until we get down and nerdy when we discuss if audio-based contextual ads are really a thing, or if recency bias skews our beliefs. Join us for some info and laughs with Matt!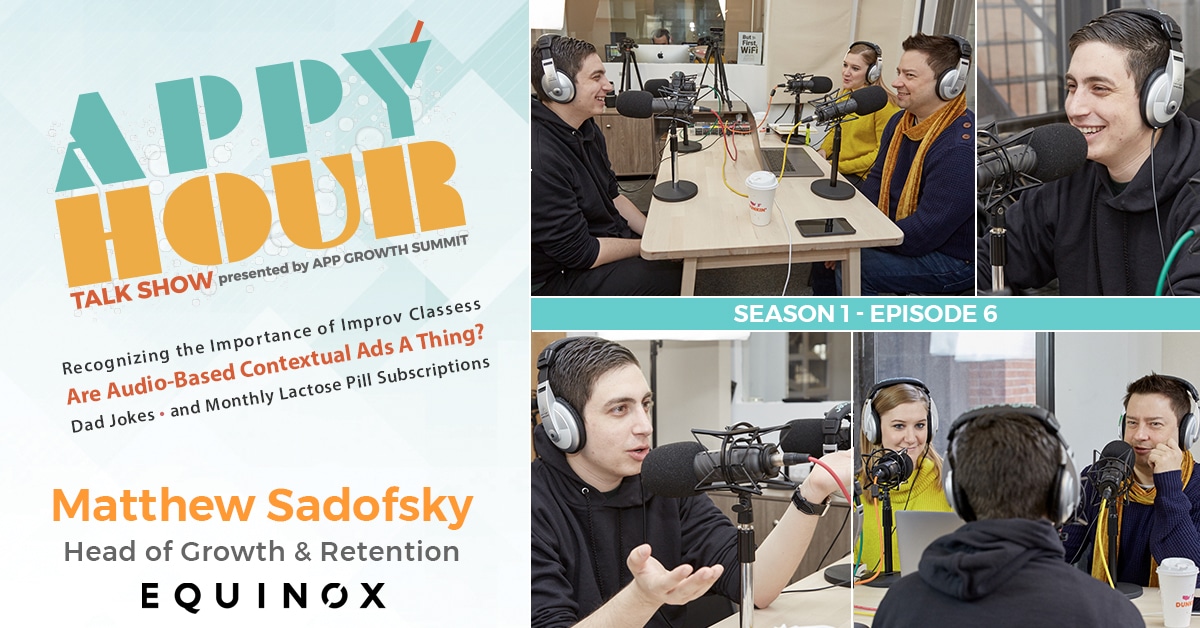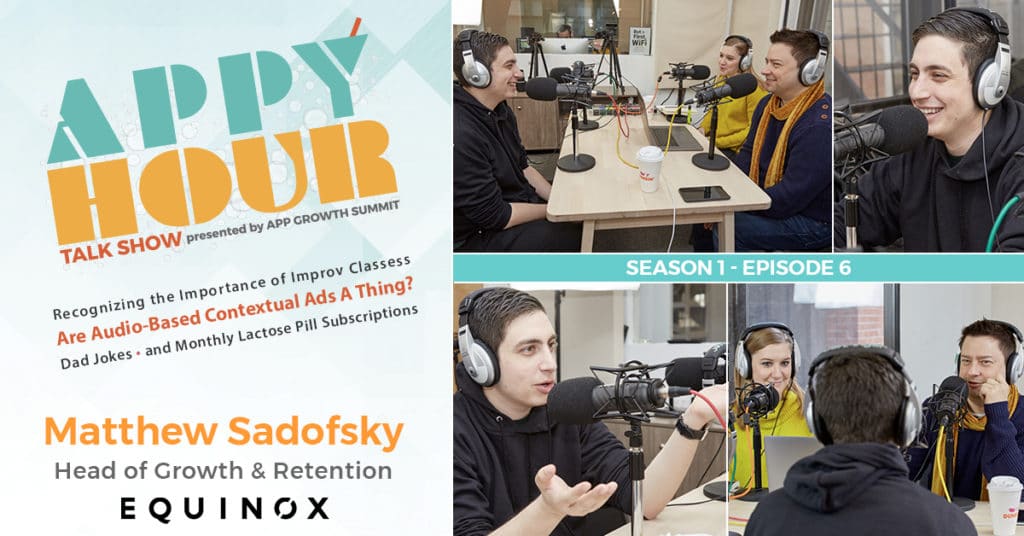 ---
We'll be rolling right into Season 02 on October 1, 2020, so be sure to listen to all our episodes and subscribe to the podcast platform of your choice! We're literally everywhere with this thing, so we shouldn't be too hard to find. Quick preview of Season 2…Our guests from Intuit, Jam City, Drivetime, Hired, MoPub, YouAppi, and more talk about being on MTV dating shows, pitching on Shark Tank, randomly being able to name global capitals, who makes the best whale noises, and accidentally stealing alligators in Florida.
Thanks for checking out The Appy Hour Talk Show's first season, and we hope you'll stay on the ride with us and tell all your amazingly fun friends about us, too! See you at The Appy Hour!!!