AGS Mastermind Roundtables SEATTLE 2019 – Event Recap


After a successful App Growth Summit Seattle on July 11, 2019, we went back to Seattle for the second time this year, and third time since we started. Initially, on December 2018, we held a private dinner with local Seattle Mobile App Growth experts which lead to us having some amazing speakers prepped and ready to go for the July Summit! Since we've received such a warm reception previously, we selected Seattle as our second official Mastermind Roundtable event on December 10, 2019!
We hand-selected 11 Mobile App experts from various-sized apps and companies such as Best Buy, DoubleDown Interactive, Remitly, Zillow, Groupon, and many more! Our experts ranged from marketing and acquisition to product managers and developers to C-levels and founders!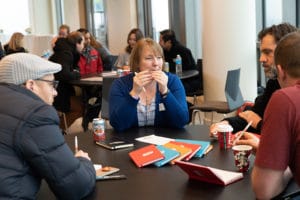 After some networking and coffee, we all sat down for introductions and everyone shared one thing they've learned recently which has helped them with their app growth goals. We learned about some new UA channels to try out, some retention marketing strategies, and some effective ASA, ASO and UAC techniques and strategies!
A group discussion followed, where we collected thoughts from everyone on what they wanted to cover. Tik Tok and Reddit were hot topics among the group, as was Facebook CBO (Campaign Budget Optimization) and AI automation of UA campaigns.
After a delicious lunch from some of our guests' favorite restaurant, and of course more great networking and informal discussions, it was time to play a fun game! We were inspired by Liftoff's interactive and engaging quiz shows at our App Growth Summit conferences, so we wanted to play a game with our Mastermind attendees!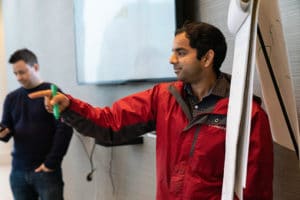 After the game, which was a runaway victory by Team B, named "The Converters," we went back to the group discussion. We picked up right where we left off and dove deeper into Facebook ad set and bidding strategies for app install campaigns, re-engagement strategies, and retention marketing/CRM actions and ideations designed to keep your users active in your app, as well as covering app expert personal education advancement, what skills the group felt like learning and which ones they felt weren't necessary to dive deeper into.
It was another great Mastermind Roundtable event, and we can't wait until July 30th, when we're back for App Growth Summit Seattle 2020! We'll have new never-before-heard speakers, in-depth workshops, interactive  roundtables, and more amazing content and networking to be topped off by a post-event rooftop happy hour! Request an Invite and maybe we'll see you there!