App Growth Experts: Robert Garfinkle on App Monetization
The choice in method of monetizing your mobile app is a series of hard decisions. There are a lot of ways to go about it, and you can get lost in a sea of possibilities. Everyone is looking for the secret to making an app successful and profitable, but how should we approach product monetization? What are the right strategies? And how can they influence user acquisition? 
Robert Garfinkle is bringing his insights about the different ways to approach product monetization, in an extensive keynote presentation to App Growth Summit LA, on February 23, 2023. Don't miss the chance to meet him in person there! In the meantime, here's a sneak peek of his presentation. 
Monetization from a growth and UA perspective
Monetization solutions are the foundation to your business strategy, they determine how you grow your business, how much value you bring to customers, how you engage with them, and ultimately how successful you are. 
The keynote will be covering the different ways to monetize your app for success, or, in Robert's own words, it will be "a 'from the trenches' style comparison between the most common choices towards monetizing games with a particular focus on how to evaluate success from a growth and user acquisition perspective". 
Robert will be presenting how high level approaches in monetization, whether it be In-App Purchasing (IAP), In-app advertising (IAA), Real Money Games (RMG), subscriptions, NFT Games or Rewards, can fundamentally change user experience and will provide useful insights about the advantages of a sink and faucet conceptual framework.
At the end of this session, you'll be taking away a few key messages:
Innovation is possible: there are plenty of ways to approach monetization, anyone could figure out the next great one!
Great content will find an audience: this keynote is a comparison of what toolbox to approach those audiences with. 
It's always a grind, there are no shortcuts. We are lucky to have good data and lots of ways to approach monetization. Testing is a luxury not every industry has.
A bit about our App Growth Expert
Robert Garfinkle has been working on the core growth problems of mobile apps since 2013, working variously as a growth leader at WildCard Games and Celer Network and has a larger career in performance marketing in major publishers including Nexon, Netmarble and Gameloft, with teams based globally. Having had experience in genres including strategy, casino, casual, card, and role playing games, he has been involved in the go to market strategy and marketing support of a number of mobile titles.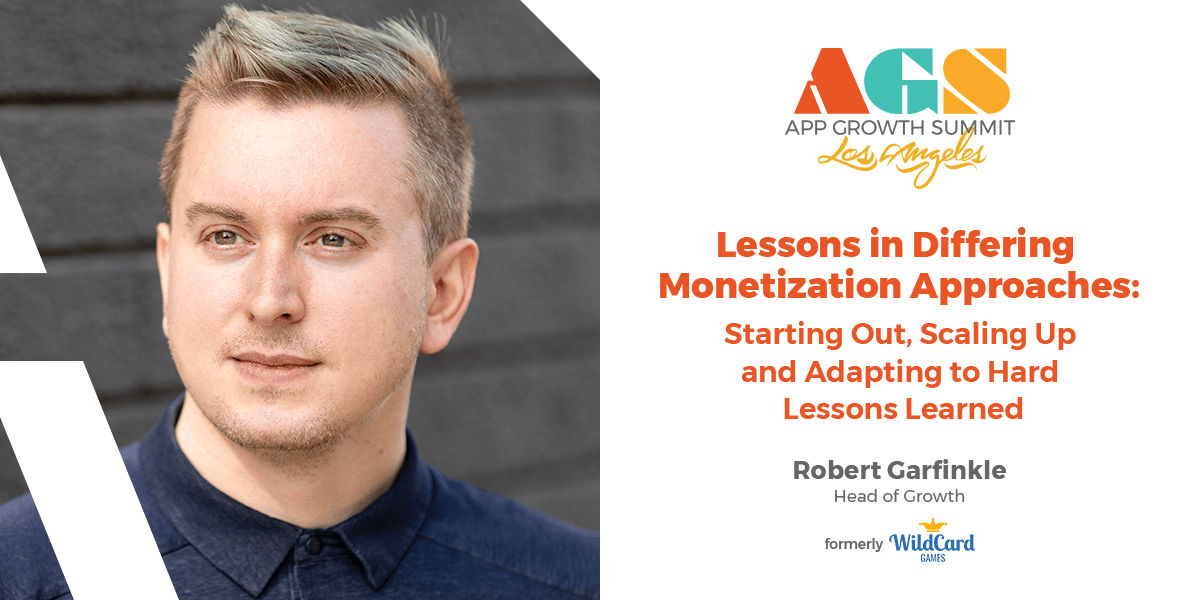 And it's with this experience and knowledge that Robert will provide founders and product teams with actionable ways to make the right monetization infrastructure choices, at App Growth Summit LA 2023!