App Growth Summit NYC 2018 – Recap & Review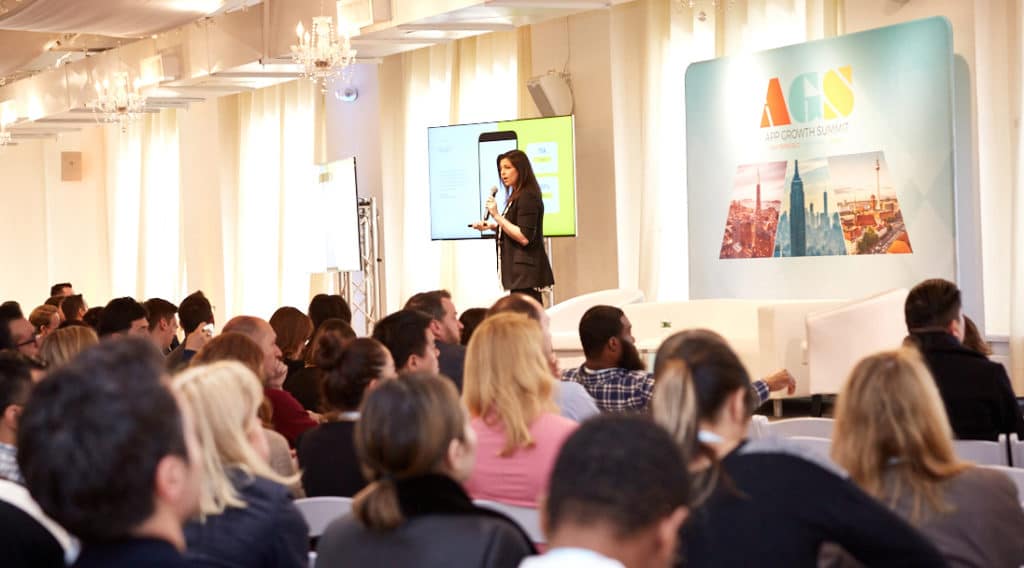 Our first event is in the books, and we're very happy and proud to announce that the App Growth Summit NYC 2018 on April 5, 2018 was a sold-out and packed success! This was our first event of the year, and while it was exciting and encouraging to full book the event, we were disappointed that some were not able to attend. We listed everyone who couldn't make it for an advanced first-option ticket for next year's App Growth Summit NYC event on April 4, 2019 (save that date, and Request An Invite to attend)!
The venue was absolutely beautiful, and we had two floors and two stages filled with standing room only attendance for the event which saw over 300+ attendees and only 27% of which were vendors. These are very important metrics for us. We are one of the very few events which doesn't offer vendor tickets for sale. Any vendor attending our events must be a sponsor. This is to ensure we can keep the vendor attendance capped at a reasonable rate, so the Publishers, Brand Marketers, and Developers in attendance can engage with each other and consume the world-class content in a friendly no pressure environment.
Our events are also Invite Only, which increases the quality of those in attendance at our events. So, when you request an invite to come to one of the App Growth Summits, you'll know you're in with the best of the best and the energetic interactions which take place prove that our concept works.
Another huge milestone achieved was our 52% Women Speakers. The event was also recognized by attendees as being the "most diverse" event some had ever attended, which included speakers and attendees from all demographics and relevant vertical markets.
Our Keynote Speaker was Heineken's Head ofDemand Generation & Media, eCommerce, Arti Sahgal, who delivered an insightful presentation on Re-Targeting Strategies for Brands in a Mobile-First World. Snapchat and Google gave educational presentations on how to better use their advertising platforms for greater success. All in all, we had 22 sessions consisting of 13 Presentations and 8 expert-filled Panels, and one amazingly fun and hilarious game show produced by Liftoff!
Another proud moment occurred immediately following the event, at the Women In Wireless (now named mBolden) Red Carpet Reception on the Terrace. We raised some funds to provide Women In Wireless with a sponsorship donation thanks to our 7 Red Carpet Reception sponsors (YouAppi who also shot an amazing video recap of the reception, AppLift, CleverTap, FeedMob, InMobi, Taptica, and TUNE).
---
There was far too much amazing content to recap all of it here, so to view the entire agenda of content sessions, speakers, and sponsors/partners, please visit our App Growth Summit NYC 2018 event page!
Thanks to everyone who attended, all our amazing sponsors and partners, and thanks to the App Growth Experts event team without all of whom this event could not have been possible, let alone as successful as it was. View all our upcoming events, and don't forget to Request An Invite to join us at a future event!