Perk Up Your Push Notifications With These 4 Powerful Tips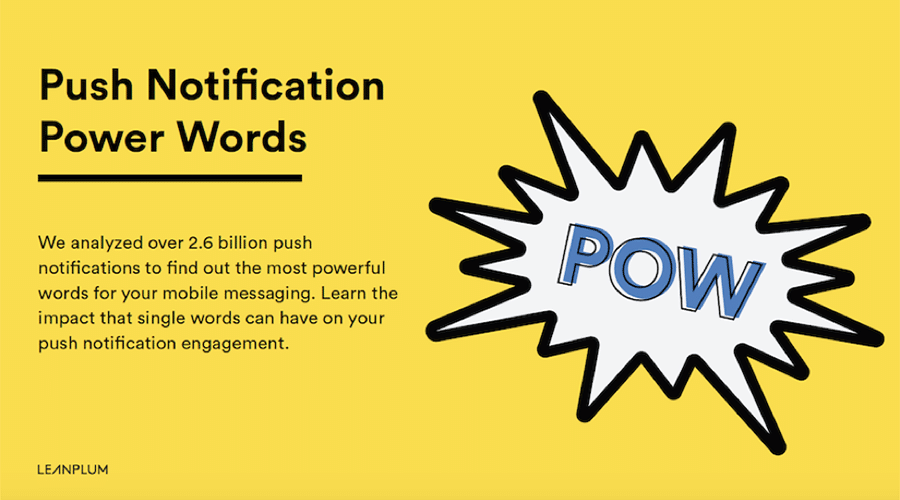 There's no sugar coating it. Getting the attention of app users is hard. It seems there's a never-ending stream of mobile noise, with push notifications, email alerts, text, app badges, updates, and more flooding everyone's view every few minutes.
To grab users' attention and lure them back to your app, you need to break through that noise with clear and powerful push notifications. As an added challenge, you have to do so in an incredibly short amount of space, where every word counts. But what makes your messages stand out from the others?
Leanplum poured over 2.6 billion push notifications to determine if there were any copywriting themes that proved especially effective. We found four data-backed ways to inject that va-va-voom into your messages — and persuade more people to open.
1. Convey a Sense of Urgency
When the clock is ticking, lighting a fire under your audience can lift open rates.
Say you have an amazing last-minute sale and you want to generate more revenue. Your best bet: alerting users they're almost out of time to take advantage of a great deal. Send an urgent push notification to convince them to pay attention — and strike while the deal is hot.
What are some examples? Words like deadline, critical, quickly, reminder, today. Check out the list below and try incorporating these words in your next campaign.

2. Excite Them With Exclusivity
Exclusive content increases intrigue — after all, everyone wants to feel special. If you have a hotel app, let a user know when they've been upgraded to a better room. Or if you have a retail store with a loyalty program, pique shoppers' interest by sending them a premier invite.
No matter what you have to offer — a tournament, promotion, or new content sneak preview — it pays to tell users they've qualified or been specially selected. It may be the push they need to re-engage.
Some ideas to get started: words like reward, invitation, limited, timely, and member. Borrow from this list to let users know they have unique access to special content.

3. Make Messages Emotional
Search for "emotional marketing" and Google will turn up more than 25 million results. It goes to show that emotion is a big part of marketing and sales psychology. So it's natural that incorporating more emotional language into your messages will have an impact.
On a more specific level, you'll turn heads by using ultra positive and negative words — that is, words you don't hear every day. Go ahead and experiment with tone, including themes of fear and delight, to discover what lifts push notification opens.
Here are a few words that stood out on the extreme ends of the positive and negative spectrum, inciting more emotion when read. Our favorites: escape, dream, indulge, warning, and risk.

4. Drive More Value
What's better than cash money? Not much, according to our study.
Bargain buyers are sure to engage with your app when you offer a deal they can't refuse. Grab their attention by using monetary value words and daily deals that encourage app engagement and conversions.
You'll cash in on opens when you use words like these to extend value: money, offers, payday, bargains, and deals.

Get a Leg Up
Of course, Power Words aren't the be-all and end-all of persuasive push notifications. Smart marketers also know to personalize content based on user preferences and behavior. So A/B test everything — from the copy to the timing to the channel — and pair messages with a smooth in-app experience.
In the meantime, learn how to craft powerful messages that users can't resist opening. Download our full report and get access to all the juicy data, including the complete list of 120 Power Words. You'll also discover Power Words for various verticals, making crafting your next push notification a little bit easier.
---