Scale beyond the Duopoly: Emerging Social Channels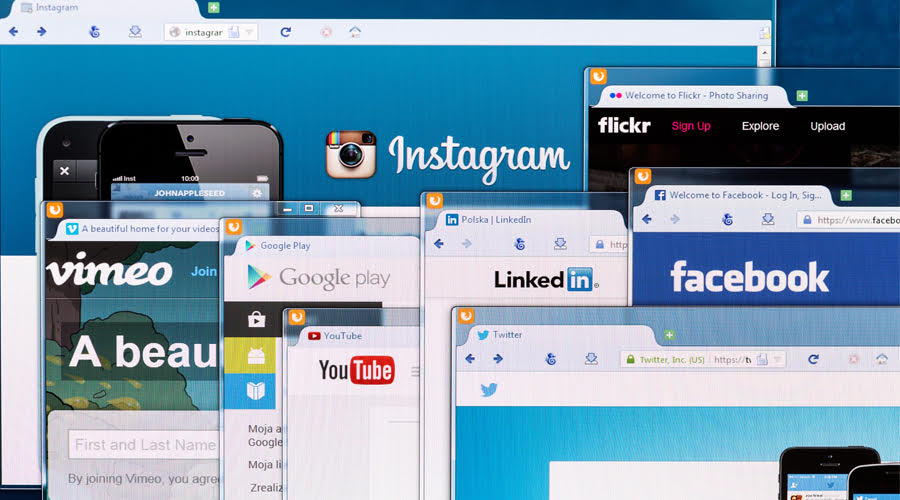 In the mobile gaming space, Facebook and Google UAC have arguably been the top two channels ever since their deep funnel products came into dominance. Their portfolio of apps has built an ecosystem to interact with users from multiple endpoints. The massive amount of data fed by their own user profiling and advertisers' SDK has also built a black box algorithm to their advantage, although the competitive edge is likely going to shift with the iOS 14 privacy update that was delayed to Q1 next year.
Diversifying the media mix from the "Facebook-Google duopoly" has been one of our ongoing explorations to mitigate risks. Other social channels like Twitter, Snap, Reddit, and Tik Tok have been on our radar given their scalability potential, relatively less competition, plus the additional benefit of network effect. On iOS especially, the offerwall and incentivized networks shutdown in May 2019 further limited the viable acquisition channels, which makes them an even more plausible testing playground.
* These social channels have not been new to users or brand advertisers. The word "emerging" was used loosely here to reflect their adaptation to direct response advertisers in recent years.
What they have in common
These channels below (Twitter, Snapp, Reddit) have rolled out their Direct Response (DR) products of varied degrees tailoring to mobile advertisers. After running tests on all of them, we saw the commonalities as below.
They all have a large enough user base that's often not overlapped with Facebook and Google. This is their most valuable asset. In terms of platform preference, we've found surprising results that warrant testing for both (iOS vs Android) and may run counter to results seen on Facebook and Google.
Given the nature of self-attributed networks, we observed a pretty significant discrepancy between self-claimed installs and MMP-reported installs across all three channels. Depending on the MMP settings, whether to turn on view-through attribution is a tradeoff, especially during the game launch window. Snapchat, for example, counts impressions when the ads start loading, with or without swipe-up. Users could easily tap to skip if they don't swipe up. Twitter, on the other hand, is a great pioneer to the iOS 14 privacy update, as it requires users to opt-in for device-level conversion tracking. From our testing, the opt-in rate was lower than 30% in the US, causing uncertainty to assess the return on Twitter. Starting from April this year, Twitter reverted back to sharing that info for click-through users, but the install discrepancy has remained despite the closer gap.
Their systems still weigh heavily on top-of-the-funnel metrics like click-through rate than value-driven metrics like return-on-ad-spend (ROAS), despite the continuous efforts to ramp up their mobile app products. Snap has been acting the fastest to build such features like App event optimization (AEO) and even Minimum ROAS products within two years. However there's still volatility in the algorithm given its early phase, and the install volume and quality are heavily swayed by the brand dollars. Reddit and Twitter have yet to build products on deeper-funnel events, and the performance requires a lot of manual management and optimization still.
In terms of targeting, interest-based targeting seems to be the most powerful tool for mobile campaigns. Twitter's keywords campaigns usually saw better results than its lookalike targeting. Same thing applies to Snap's Lifestyle Category, their version of interest targeting. For Reddit, targeting sub-reddits is the only viable option to "control" your targeting audience since they don't allow demographic segmentation in their campaign settings.
Twitter
Twitter is a better platform for IP-based titles or apps with established popularity. It has a fairly limited global reach, with the US and Japan being its top two Geos. It will be a great fit for companies who are trying to break into the Japanese market. Unlike Facebook whose interest keywords are mostly rooted in the English-speaking culture, Twitter actually has a fairly extensive keywords pool for Japanese speakers.
Keywords and interests targeting are the most viable levers for advertisers, which consists of Twitter handles, keywords, and hashtags. Conversation topics were added not long ago to expand reach to more recent activities or trendy topics. One good way to leverage Twitter keywords would be to include the trendy topics related to your campaign to broaden the reach, and break down the keywords delivery from its reporting to narrow down the audience if needed. New mobile campaigns on Twitter are harder to get traction, and thus a wider audience could help jumpstart the campaign. The starting bids on installs need to be 1.5-2x of the normal bids on other social channels, unless you have a killer creative.
Twitter is the only social channel that explicitly factors brand metrics such as "Likes" and "Shares" into their algorithm for DR campaigns. Hence the top-of-the-funnel metrics matter even more to the campaign efficiency than its counterparts. There's more synergy between what's working on the social page and Twitter campaigns, and cross-referencing the creative learnings from there renders higher cost efficiency. Statics also work case by case but overall better in the Japanese market.
Twitter has expanded its inventory into MoPub since the acquisition in 2013, but these two entities have been independently operated. Therefore publishers or ad exchange info have not been a lever available for advertisers, which makes MoPub a better source for scale than performance.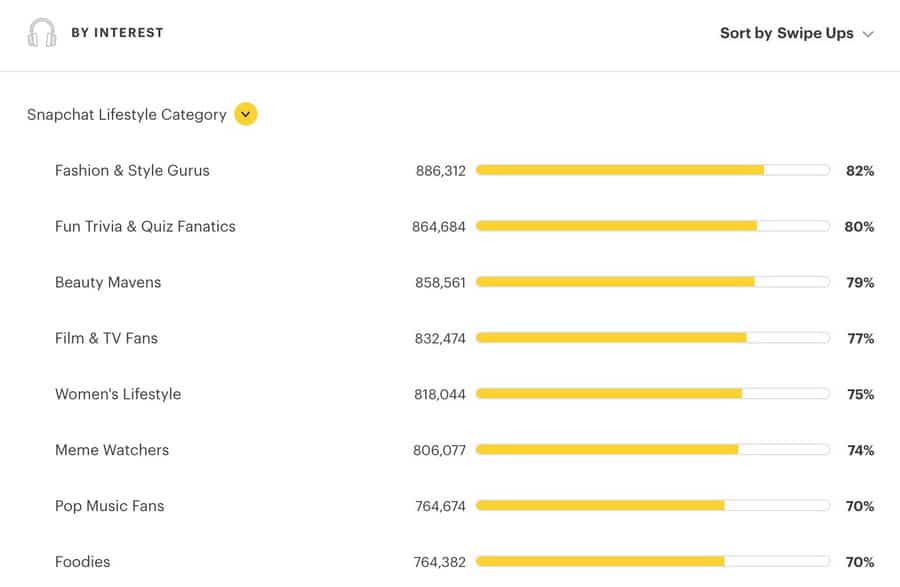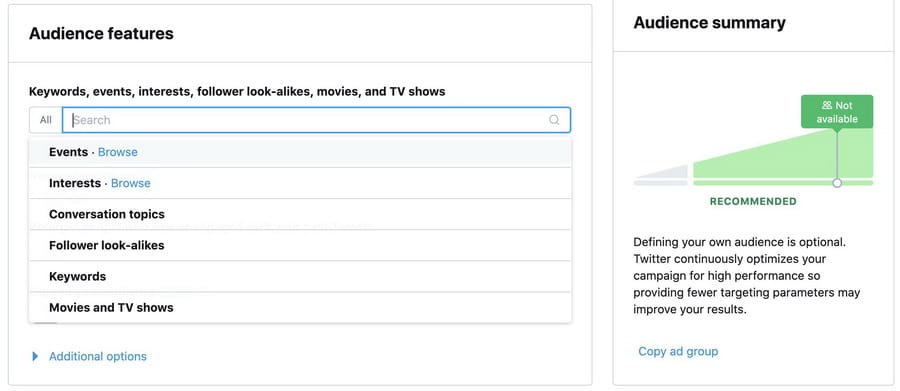 * Twitter Keywords/Interests targeting
Snap
Snap has been taking the lead on ramping up its mobile-oriented products. It debuted its AEO product in 2018 and just launched its minimum ROAS (minROAS) product last month. Advertisers may find their UI & UX, or the product name reminiscent of Facebook's Ads Manager, but it would be ignorant to think that you can straight copy the FB strategy here too.
AEO has been the most popular bidding type, although it requires 50 purchases on the account to unlock, similar to FB. However, with the brand campaigns still taking up the lion share of the spend on Snap, AEO delivery as well as performance could fluctuate day-over-day, swayed more so by the market competition than by the bids. The "suggested bids" on deep-funnel events could vary as high as 40% within one week. Timing your spend within the month or quarter to avoid heavy brand competition is especially important for Snap. Given the high fluctuations on AEO, you can also mitigate the risks by launching MAI and AEO ad sets under the same campaign. MAI ad sets would serve as the volume driver and lower the cost while AEO drives the performance. MinROAS is still a newborn product that requires more training. It's interesting how Snap decided to skip the Value Optimization (VO) product phase and go straight with MinROAS, and we've seen too high CPIs for MinROAS to be efficient.
Snap Lifestyle Category (SLC) is the most viable toolkit on Snap. Once the campaign gathers enough install data it will unlock adset-specific delivery insights, which highlights the SLC affinity indexing that can be used in the next round of testing. Lookalike campaigns usually have trouble with scale, which makes it a nice addition to the evergreen strategy but not the mainstream of the spend.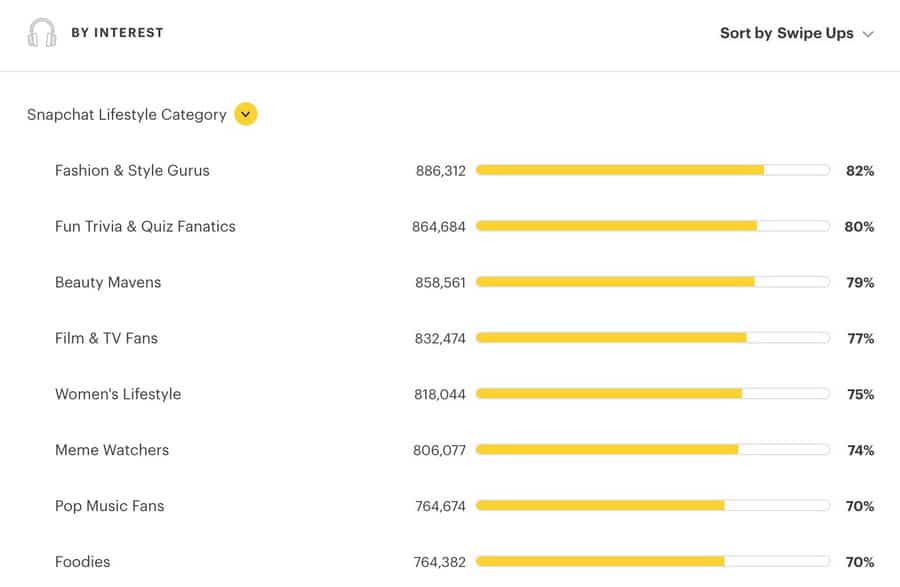 *Snap Delivery Insights
Snap presents two placements for DR campaigns along with fairly different creative formats – Snap Ads and Story Ads. The former is similar to Instagram Story where a short-form video (previously restricted to under 10s, and now open up to one minute) serves the ads with a "swipe up" CTA. The latter is placed within the discovery section of the homepage, with a static image as the eye catcher, followed by several short-form videos combined to "tell a story" if users click on the image. There's also a non-traditional placement – sponsored Snap Lens, which mainly serves as a brand buy, but recently has gained more popularity with some deep-pocket DR advertisers as well.
Snap Ads have been the majority of the mobile spend, with an increasing interest to make Story Ads work and scale. Considering the nature of Snap ads, it's best to have some attention grabber within the first 3 seconds of the video. There's still some overlap between top UA ads and top Snap ads so DR advertisers don't need to create everything from scratch. Obviously it takes additional creative resources to tailor the creatives to Snap, but simple edits like cutting down the top UA ads into shorter clips could make a good Story Ads.
Reddit
The games we tested are mostly casual and female-oriented, which makes Reddit an interesting platform to explore. Reddit is no doubt a creative-first platform, with heavier weight on ad copy than its counterparts. It prefers customized messaging native to the platform, as you'd see IPM and CTR on the lower end among all social platforms.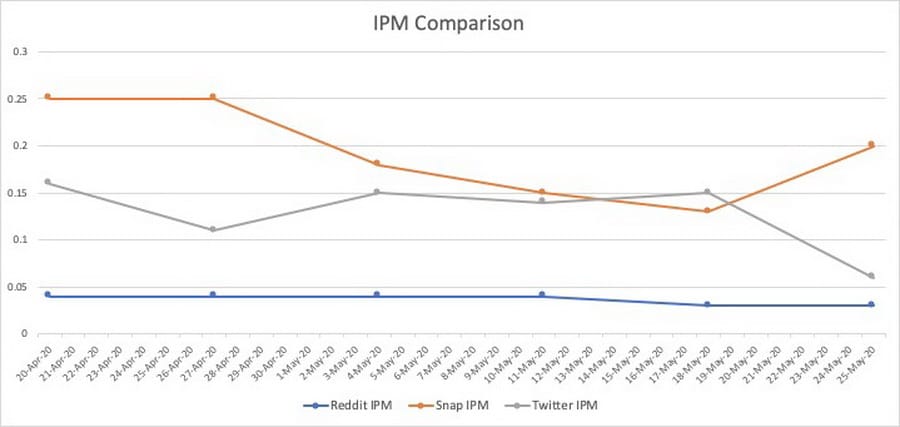 Since Reddit can't target demographics like most of its counterparts, the best way to start is Run-of-site (ROS), which basically targets all users on Reddit to get learnings. Grouping subreddits or interest targeting are two ways for hyper targeting, but a broader audience is usually the way to go, as Reddit saw the highest CPI among emerging social channels.
There are fewer levers to pull on Reddit, so it's best to test Reddit when you have a clear idea of your audience profiling in mind, or your target demo is largely overlapped with Reddit in the first place. Reddit's dashboard shows very limited information, which makes it AM-reliant to get learnings and insights. Similarly, its algorithm only optimizes towards mobile installs, and downstream performance usually requires manual mapping.
Considering the composition of Reddit users, it's not surprising that the user quality is on the higher end especially on the long-term. Despite the higher acquisition cost, the players who actually retain in the game showed higher retention and healthier long-term growth.
Impact of iOS 14
With the iOS IDFA removal, mobile UA's landscape is likely going to evolve even more. But I think these "emerging" social channels will be less impacted compared to some other types of channels like DSPs. If anything, they will actually benefit from it due to their overall slower adaptation towards mobile UA, which reduces their reliance on IDFA or other device identifiers. There's still uncertainty around install attribution and deep-funnel conversion passback, but putting them on the same boat with other networks, they still keep their advantage of the audience base, interest targeting, and similar level of campaign optimization as before.