Start to Pay to Be Viewed – The Power of Viewable Impression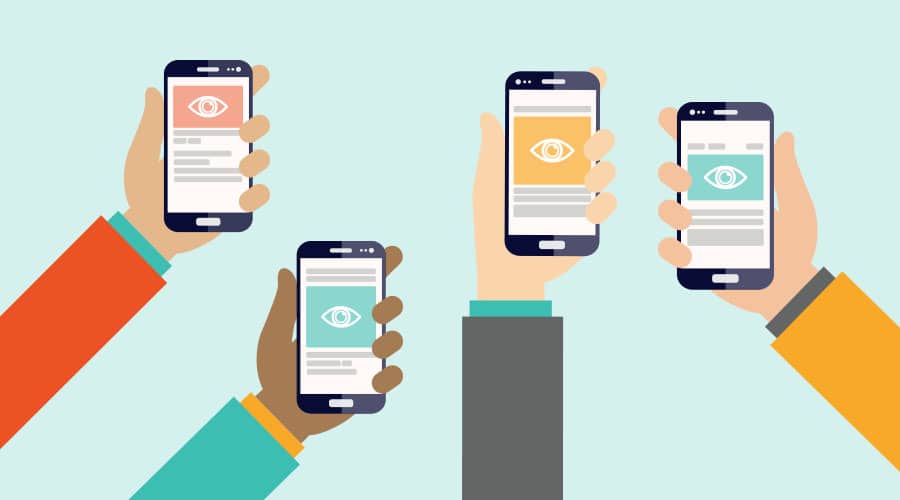 Since Covid people are playing more and more and time spent on App increased 20% Y-O-Y according to AppAnnie. Conscious of this momentum, a lot of brands massively increased spending in advertising to make value from this time people are at home and keen to play. According to the NPD Group:
Overall total industry consumer spending on video gaming in the U.S. reached a second quarter (April – June) record $11.6 billion, an increase of 30% when compared to the same time period last year, and a 7% increase over the first quarter 2020 (January – March) record $10.9 billion.
But as ad spend increases – is the number of ads effectively viewed by users increasing? As the number of channels increases in spend, are the creatives more seen? Does marketing pressure increase something that helps a brand to be effectively seen?
In this article, I will try to demonstrate to you why viewability is important to follow when you scale up your budget to get new users but also to scale effectively your brand – because an ad effectively seen seems better than a few pixels of an ad seen.
What is Viewability?
The IAB defines a viewable impression as below :
Ads: 50% of the ad's pixels are seen for a continuous 1 sec.
Large Ads (+242k pixel): 30% ad's pixel seen.
In-stream video ads: 50% ads pixels seen for a continuous 2 sec.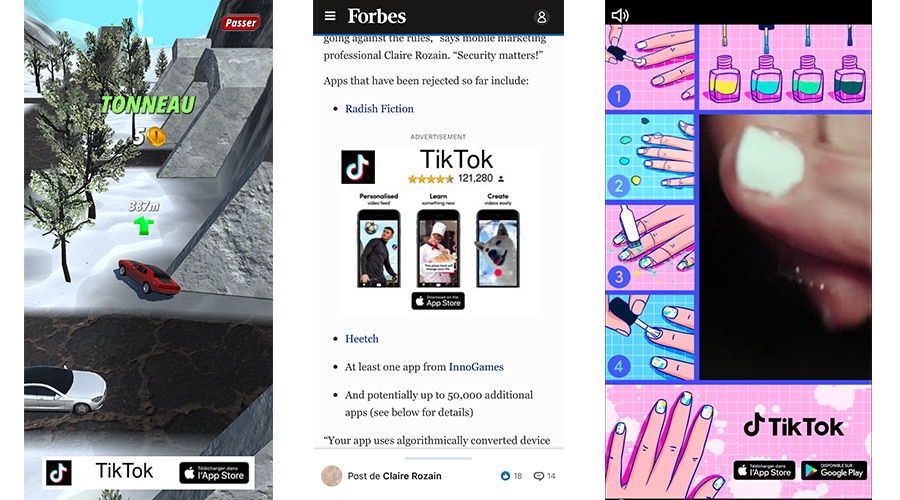 A viewable impression is an ability for advertisers to know if an ad that was served was actually seen for 1 sec and more than 50%. It can seem more or less obvious but an impression can be served and an ad can be not viewed for many factors, for instance, the ad did not load or the impression did not respect the IAB standards.
---

---
As your impression grows, it is important to take into consideration your viewability score but also the placement you are buying in order to make sure you pay to be seen and do not impact badly on your brand credibility by serving ads that are not seen.
In order to bring more clarity around this, Google worked really clearly on the reporting to help user acquisition managers to understand it and split it as below:
Total impression served: All impressions served.
Eligible impression: Impression communicated successfully to Google servers.
Measurable impression: Active view measurable impression.
Viewable impression: Following IAB and MRC standard – +50% and + 1 sec view.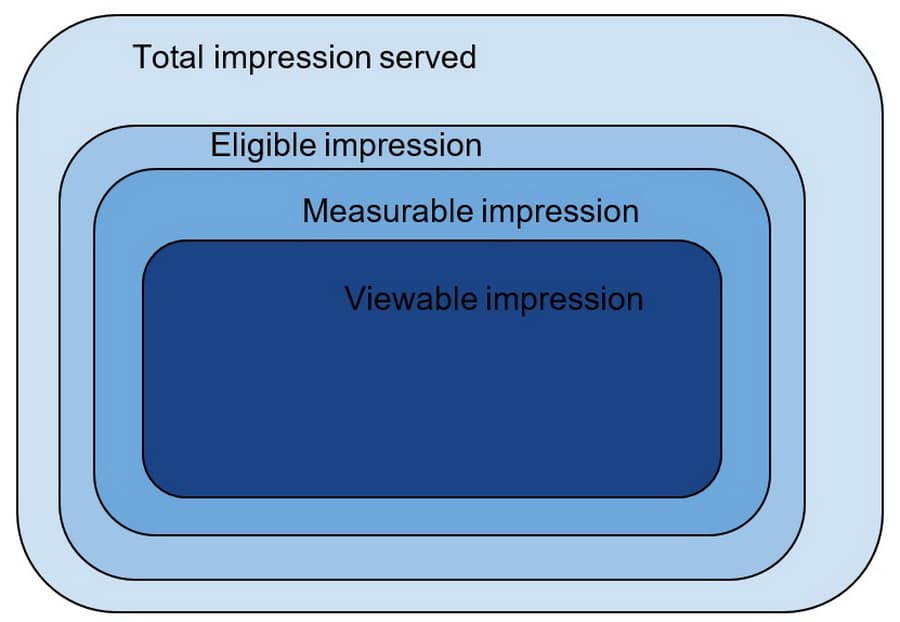 Source: Think with Google
Thus, you can bid on Google inventory on vCPM and pay only for measurable views. This bidding helps you to bid only on impressions that are viewed. Usually more expensive, this bidding type however has demonstrated to be more effective and increase your conversion rate as you are bidding only for the impression viewed.
How to Calculate Your Viewability Score?
As the CTR (Clic/Impression) becomes a more important KPI in your user acquisition with iOS14 and broad targeting; you want to make sure the impressions you base your calculation on are trustful.
Indeed, if you pay to reach your users and deliver an impression to this user but choose a placement with a low viewability score; did you miss the click or the VTA attribution because the user did not see your ad or because your ad is not good enough?
---

---
Now that you know what is a viewable impression, the good news is that you can access it directly in your Google report or calculate it.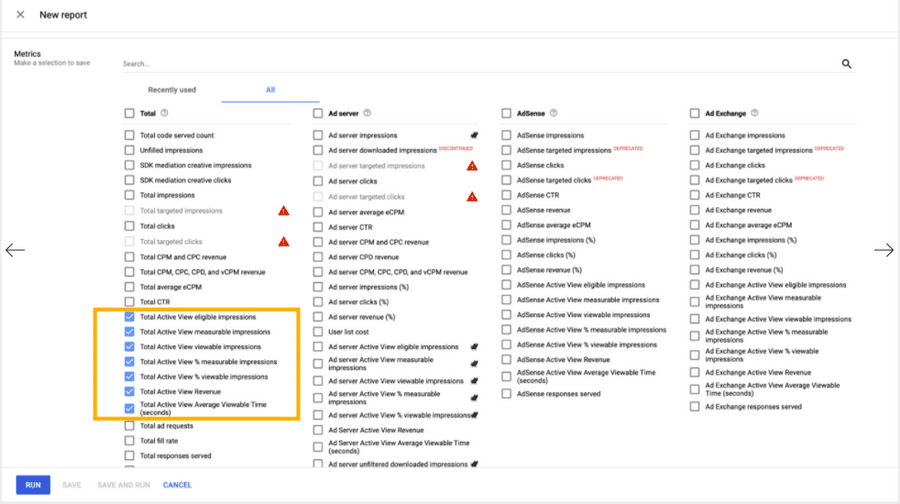 Viewability score calculation can help you to calculate your viewability:
Viewability score = (Total viewable impression / Total impression)*100
What Impacts the Most Your Viewability?
Viewability belongs to some norm, having 50% of your ad seen during 1 second seems easy to have. But according to Google in 2015 the average ad viewability on the web not including YouTube is 54%. This number improved a bit but is still fairly low. Having such a low number means half of the advertiser impressions are lost.
So, how can you as an advertiser make sure to pay for ads that are seen?
1. Channel mix: The more you work on having a healthy balance between having channels that deliver performances and premium placement at decent prices the better it is for your user acquisition. Vertical is the most effective in viewability according to Google. Indeed when you have a full-screen video ad on your smartphone, this is one of the most immersive ways to grab the user's attention as you capture all screen pixels. Having vertical ads in multiple ad networks and social media to make your ad experience immersive in different touch points seems to be an interesting way to diversify premium placement and bet on high viewability placement in different touchpoints.
2. Choose your device: As we saw the ad size impacts the viewability and depending on if you are on your computer, tablet or smartphone your ad size is going to change as your scrolling user behavior.
---

---
The smartphone is getting better with more or less big screens and this also impacts when you deliver your ad.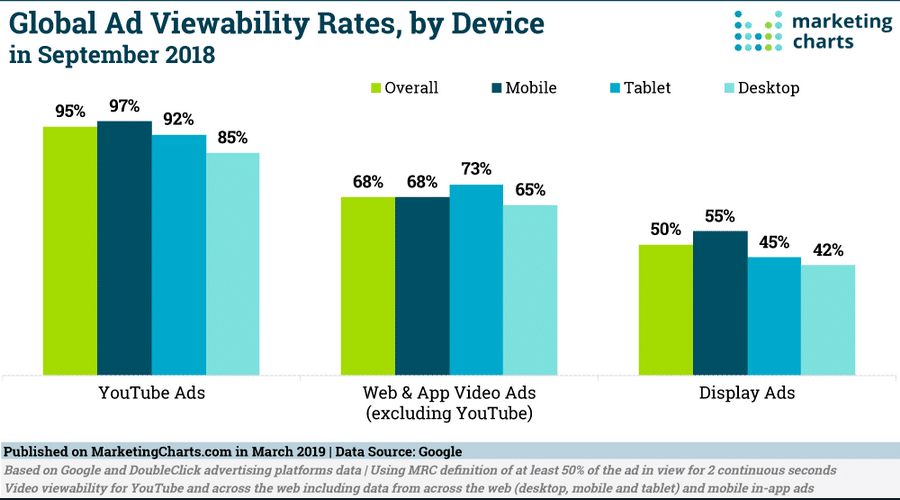 Source: Marketing Charts
3. Ad size inventory: If banner impression prices are lower than stories for instance on Instagram, there is a reason. One of the reasons is that the more you pay for a premium inventory, the more your ad experience is immersive usually. Bigger is your ad, more immersive is your experience delivered. If the 300×250 format on the web delivers a pretty low viewability rate of 20%; the 1280×720 format is delivering a much higher viewability rate 86%.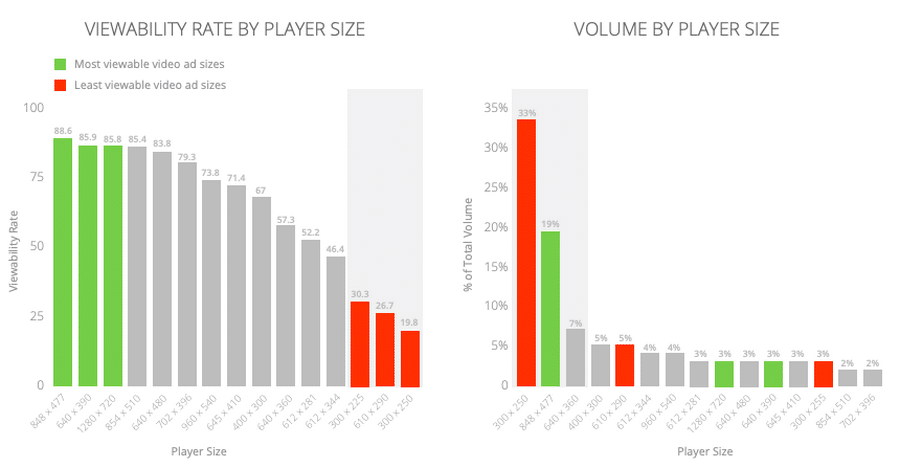 Source: Think with Google
4. Ad type: Users are getting used to premium video experiences; by using autoplay, click to play, sound on your video, rewarded video but also amazing UGC creative brands scaled up the % of time spent watching and even sharing an ad. The engagement has never been that high and it is getting even stronger with playable ads where you have an immersive gaming experience in the advertising space – so you make sure your ad is seen and played.
---

---
Below an amazing FPS playable ad experience I saw lately on ad network inventory … and yes, I have failed: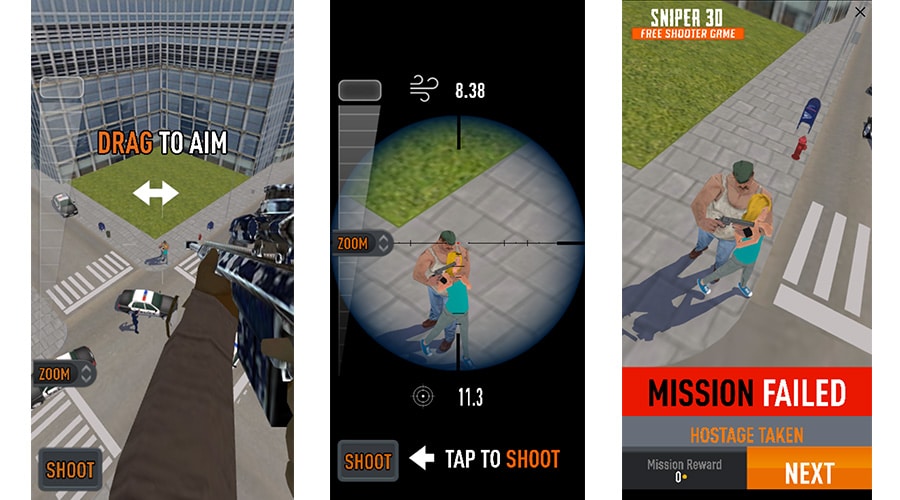 Source: Sniper 3D free online FPS
5. Ad position of your placement; is something really hard to check. Indeed when you buy on programmatic inventory you usually have the breakdown banner, half interstitial, native, video, interstitial; but how to know if your banner is top or bottom screen? This has a big impact on your viewability as well.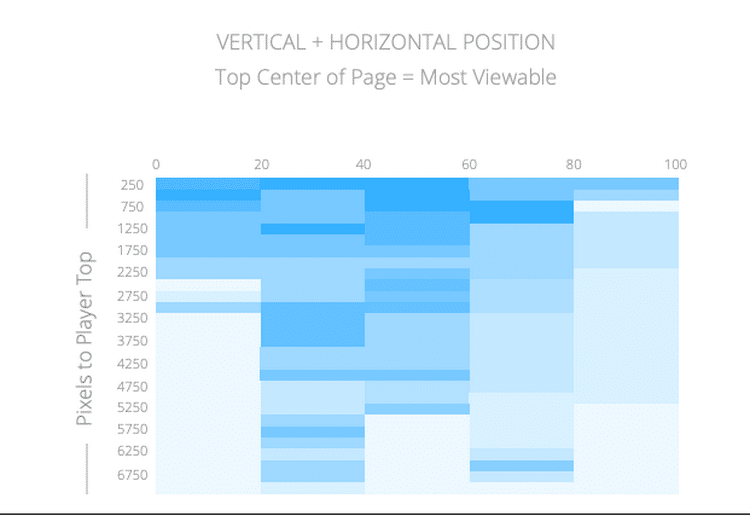 Source: Think with Google
6. Pay attention to your vertical: According to Google "The Importance of Being Seen study," if Games get 48% average viewability travel only get around 42%. The best you can do is still to compare apple to apple.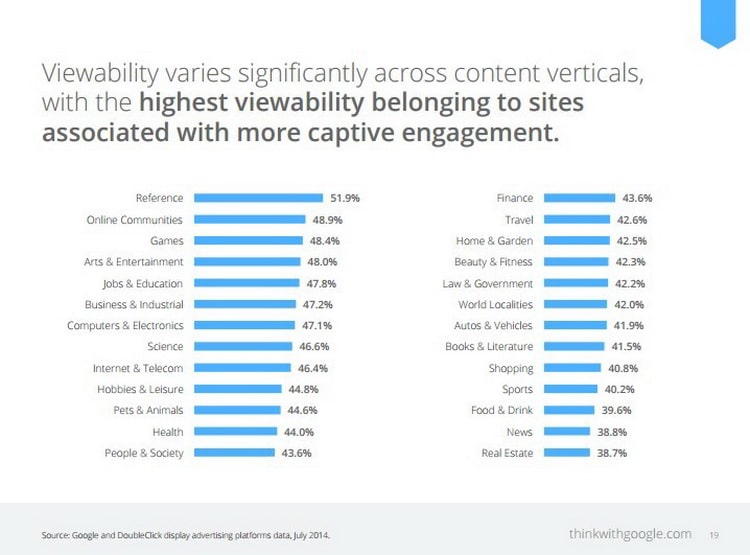 Source: Think with Google
Conclusion
To conclude, as you increase your media spend, you still need to pay attention to where you spend and make sure you take the best of each channel in order to have ads that convert because users face more and more ads placement in their user journey and tend to ignore most of them.
You may pay cheap for a placement that is not really viewable, but if your ads are not seen is it really cost-effective? This leads to the question: what is your goal as a brand? Is it to cover the larger inventory no matter what even if your ad is not seen or is it to have a proper viewable impression?
Brands are delivering more and more engaging content with true storytelling, with an engaging format as video, playable ads or poll ads, and even AR experiences! All those highly engaging formats that might be more expensive are actually playing a big part in the improvement of conversion but also on the brand image you give to your future or re-engaged player.