Mobile App Community Shares Insights & Recaps from App Growth Summit SF 2018!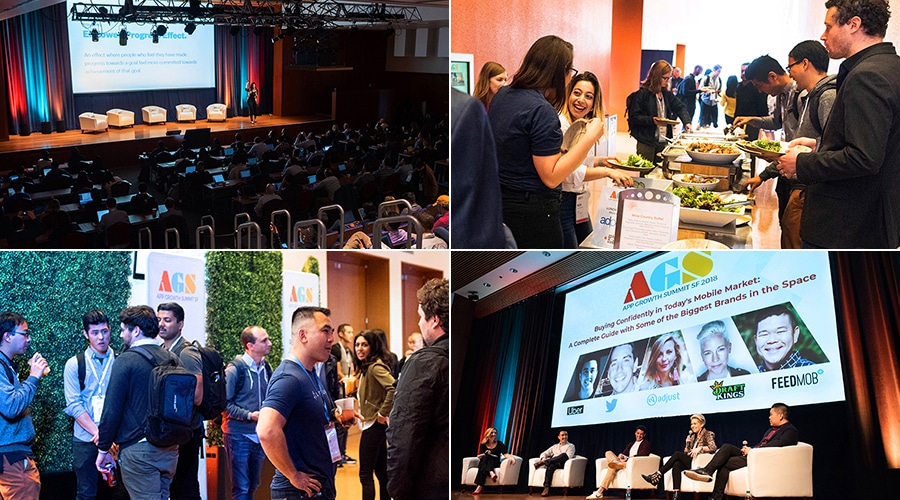 476 Mobile App Marketing & Product professionals attended App Growth Summit SF 2018 on October 25, 2018. The content-packed single-day event featured 80+ Speakers in 40 Sessions across 4 distinct room set-ups. Due to our Invite-Only format, we kept Vendors in attendance down to a comfortable 25%. This made the networking, knowledge-sharing, and overall attendee vibe extremely positive with little to no sales push on the networking floors. Other events claim to have low vendor counts, but App Growth Summit events are the only ones who have a hard-line to ensure maximum benefit for our attendees.
Quite a few Mobile Marketing experts in attendance decided to share their experience and what they learned. We compiled some below. If you have any blogs or write-ups from the event, please contact us and we'll look at adding them to this list!
Thanks to everyone who attended, spoke at, and/or sponsored the event! Without your support and presence, none of this could have been nearly as successful.
---
The Rise of Creatives – Insights from the App Growth Summit
Apptamin's Co-Founder, Sylvain Gauchet, moderated a panel on Mobile Ad Creatives, and shared his insights in the Apptamin blog, as well as some key quotes from the panelists themselves.
---
App Growth Summit SF 2018 – Reflections & Key Takeaways
KijiCo & Playmatics' Founder, Margaret Wallace, contributed a LinkedIn Article on her experience and 10 detailed takeaways from the event. These ranged from Useful Data Points on the Benefits of Localization, to Tailoring your Messaging to a User's Journey, to how much she loved the Gourmet Buffet Lunch!
---
App Growth Summit SF 2018 Recap by Yeahmobi
Yeahmobi contributed another great write-up to their company blog with a few recap points their team learned and shared from the event. You can read their take on the content surrounding Powering Growth with New UA Channels, Going Global with International UA Expansion, and more!
---
Scalarr's Thoughts & Key Takeaways from the App Growth Summit SF 2018
Scalarr made a whirlwind of an event touring schedule work, having attended events in Moscow, Seattle and San Francisco all in one 2-week span. Impressively, they were still able to succinctly write an amazing Medium post with their 5 Key Takeaways from Programmatic Advertising, to the Growth of App-Install Ad Fraud, to even Facebook Ads and Last-Click Attribution.
---
Events 4 Games Feature Profile
While we're at it, our Managing Director was interviewed by Events for Gamers recently. Rather than dedicate a whole self-aggrandizing blog just for that (not our style), we'll post the link below if you wanted to read about his take on the App Growth Summit events, surfing the chaos which is mobile app event planning and production, and truly adopting diversity as the new normal for the right reasons and not just to issue a press release…and a few other things!
Read the 2-Page Interview here…
---
Thanks again to everyone attending, speaking, and sponsoring, and another thank you to those above who took the time to share their experiences with their networks. It really means a lot to us to be able to produce the type of events everyone buzzes about. We'll see you all with an expanded offering in 2019…and beyond!!
If you're a mobile app or game publisher, developer or brand marketer (sorry, no vendors, please), and would like to attend one of our upcoming events near you, Request An Invite and we'll get right back to you!