The Power of Subscription Models in Gaming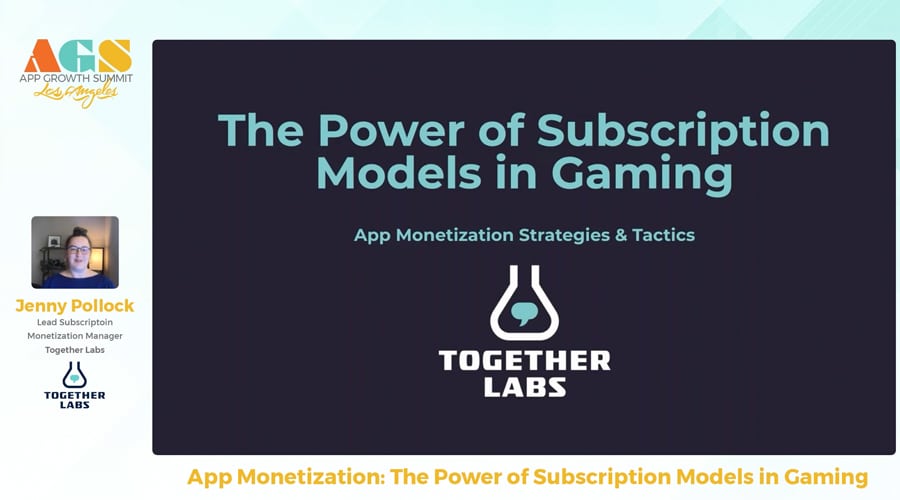 Millions of subscription boxes containing everything from dog treats to meal kits with wine pairings are mailed to consumers every month. Most industries have embraced the subscription model in recent years, and the gaming industry is no different.
The subscription model is beneficial to gaming companies because as with other industries, it provides predictable revenue and gives consumers ways to connect more deeply with products they love.

As technology develops, the use and social patterns around it change. This influences technology companies and their monetization strategies. We're going to look at how this specifically affects game developers.
Game Monetization History
A good place to start is looking at the recent history of the gaming industry. In the cartridge and console days of the 80's and 90's, the total addressable market (TAM) was limited by the number of users who were able to purchase an expensive console or PC.
Gone are the days of walking into Game Stop and shelling out $60 for the newest N64 title. Now new titles and additional downloadable content (DLCs) are available on the go or from the comfort of your couch.
The cartridge evolution moved toward instant downloadable content across many types of devices. With the push of a few buttons, you can get a new game on your phone for free in a matter of seconds. Now huge portions of the population carry a mobile device, giving them access to an extensive library of games built specifically for mobile. According to an article published by Pew Research in 2019, 76% of adults in advanced economies and 45% in emerging economies have a smartphone.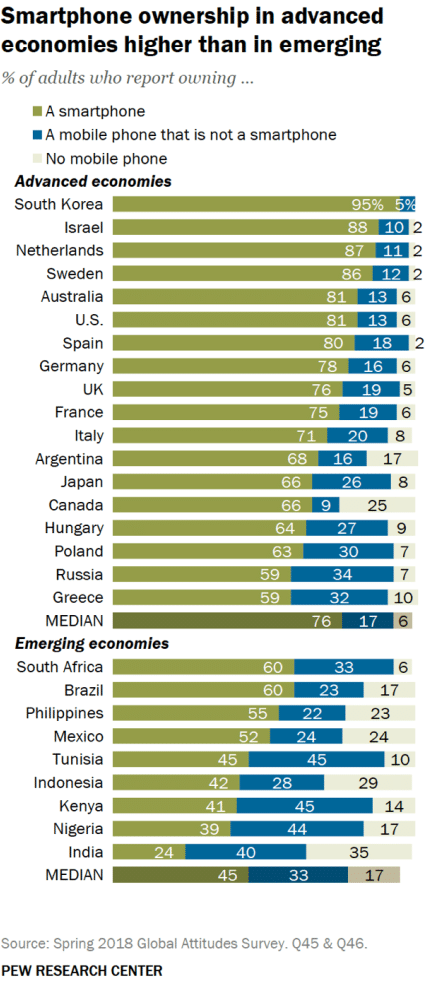 No longer do game developers have to pick which console or device they want to manufacture their game for. They can aim a digital product at as many different platforms as they want.
The current model has a larger TAM, thanks to the widespread adoption of mobile devices across the globe.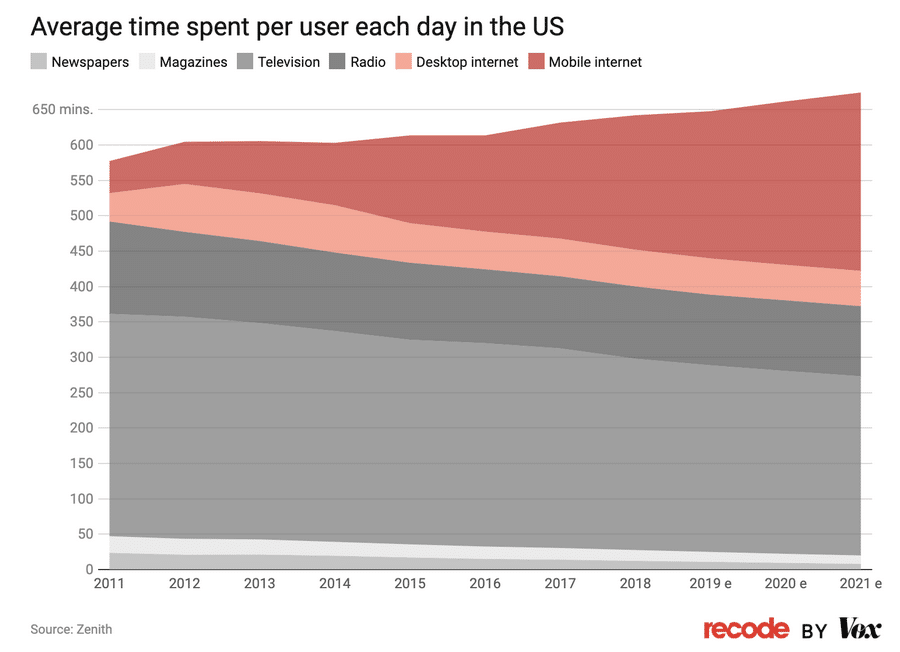 The above chart from Vox in "Tech Companies Tried to Help Us Spend Less Time On Our Phones. It Didn't Work." Mobile internet has been steadily growing since 2012 while all other channels are seeing a decrease.
Digital content shops, such as Nintendo eShop, Steam, Google Play, and The App Store, have become the main method for accessing games.
The Nintendo eShop offers access to titles for the Nintendo Switch. The Switch has been a hugely popular console as it caters to both docked and handheld play. It's a beautiful piece of hardware that seamlessly transitions between the two modes and use cases by leveraging modular hardware. They offer a subscription to gain access to online multiplayer for some games.
A premium is put on easy access. Resulting in a low entry price or, in some cases, a freemium model.
New Pricing Models
Freemium: Free to play; monetization comes from ads and upgrades
In-app purchases and upgrades
One-off purchases
Microtransactions: Many small transactions
Gaming Subscriptions:
– Individual game subscriptions
– Platform access like Nintendo Switch Online.
These new pricing models allow app developers a variety of choices in how they want to monetize. Depending on your goals, different monetization strategies can be beneficial for different apps and different user cohorts within the same app. It also allows users a choice in the types of games they would be willing to play and support.
Industry Trends
Looking at the gaming industry as a whole, you will see a rise in companies and developers looking for diversity in monetization. In many cases, the desire to drive consistent and predictable revenue results in the addition of a subscription offing.
Popular games like Fortnite, Roblox, Minecraft, and Player Unknown's Battlegrounds have been hugely successful in offering subscriptions across consoles, computers and mobile devices. It's important to take note and see what can be learned from this cohort.
Keep in mind that subscription popularity is ever present in the consumer space. Across industries, consumers are gravitating toward the subscription model with services such as Netflix, Spotify, Amazon Prime, Blue Apron, and Stitch Fix. Even my dog has his own subscription, BarkBox, which he receives every month.

Gaming Subscription Design
The four key components to game subscription design can be leveraged to iterate on an existing subscription or to launch a new subscription.
1. Monthly Price Ranges: $4.99 – $19.99
Subscriptions are most commonly related to one of the following time frames: monthly, quarterly, annually, or seasonally. A season is a predetermined amount of time spanning from 2 weeks to 1 year. The term season comes from the concept of season tickets in sports, which give one user access to all games or content for that timeframe. Pricing can come in below or above the average range depending on the game, user base, and objectives of the developers.
2. Tiering
Many games offer more than one tier of subscription and content. This allows the user to pick which tier fits their needs and budget. Tiering can expand your predictable revenue stream by unlocking additional spend above and below your original price point. Ensure you have differentiation between the tiers so you can motivate users to upgrade and move up the rate card.
3. Naming / Branding
While this is unique to each game it is important to ensure the name of the subscription and any associated tiers directly convey the value.
4. User Value
This is the foundation of the subscription without which you will not be successful. Users need to be getting value to sign up and keep the subscription. It's important you know what your users want and include that in your subscription. User education and awareness of the features and value can help drive retention.
Why Subscriptions are Good For Users
Games are an escape, creative outlet, and, even more importantly, a way to connect with others. A subscription allows users to get elevated status, exclusive content, in-game currency, and show their commitment to the game.
Why Subscriptions are Good For Companies
Predictable revenue streams have become of high interest ever since the Software as a Service (SaaS) industry took off. Executives, CEOs, and boards love when you can accurately predict your revenue over the next quarter. Subscriptions help unlock user spend, drive user commitment and can increase session time and frequency.

Actionable Strategies and Tactics:
A roadmap outline of the steps I recommend to start or iterate on a subscription offering for your game:
Metrics & KPIs: Look at the data you have along with your team and company goals. Dig a layer deeper, does anything look different than you'd expect? Is anything going the opposite of industry trends?
User Research: Take your questions from reviewing your data and start creating research goals. Next, translate them into questions for a user survey or a discussion guide for user interviews. If you can, consider doing both qualitative and quantitative research then you will be armed with strong data as you work with your cross-functional teams to implement changes.
Cross-Functional Teams: Now it's time to partner internally to secure product changes, marketing materials, updated merchandising, and additional support for user education. Subscriptions take the guesswork out of revenue prediction and that can be a great way to garner support for your plan!
To learn more, watch my presentation from AGS LA 2021.