Why TikTok is Winning on Apple's SKAdNetwork After iOS 14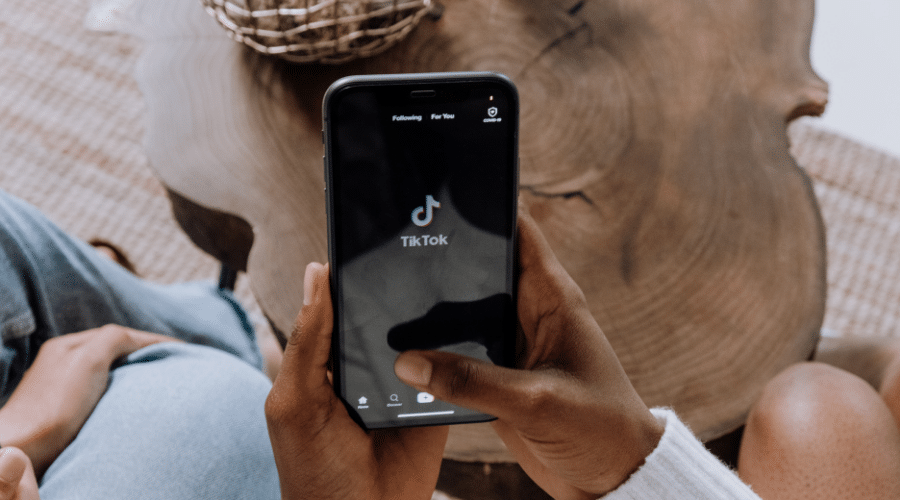 Privacy has become a big concern for users in recent years, especially after the recent data scandals involving Facebook and its peers. For app marketers trying to ensure the success of their campaigns, understanding user preferences is key.
AppsFlyer launched their first Performance Index with SKAdNetwork Ranking where they analyze top ad networks for in-app performance and what changed since the ATT rollout in late April 2021.
In this blog post, I will talk about the most interesting findings in the AppsFlyer performance marketing index in these turbulent times. Let's get started.

It may be known more for its musical lip-synching videos, but TikTok is becoming the most influential social media channel in the world. TikTok, the popular video streaming platform owned by Bytedance Group (the company behind other well-known social media channels like Musical.ly or even Douyin/TikTok in China) is topping the most downloaded app charts again.
It's known for a while that TikTok has extremely powerful algorithms. After all, you can watch these silly videos for hours without realizing how much time has passed. And the next day you just want to go back and do it again. Bytedance is using these algorithms to display relevant ads to users while watching videos. Combined with its massive reach of one billion monthly active users, TikTok has become a hot destination for advertisers targeting iOS users.
According to AppsFlyer's data, TikTok For Business has also adapted the best to SKAdNetwork six months after Apple's ATT enforcement. The social network had the 4th highest number of advertisers, 5th highest number of postbacks, and good quality. This led to first place in AppsFlyer's power ranking and fifth place in volume ranking for SKAdNetwork.
As a performance agency, we see the power of TikTok every day in our clients' campaigns. I'm not surprised at all that TikTok is so strong after ATT/iOS 14. TikTok was one of the fastest channels to adapt – they reacted early and decided to support SKAD for advertisers all the way. The implementation and roll out of the new campaign structure, with all its limitations, went smoothly. Receiving postbacks and adoption of new features was remarkably fast as well. TikTok has proven itself as a reliable advertising partner for mobile marketers. They also involved clients and offered swift and fluent support from account managers, which helped a lot to adapt to the new world.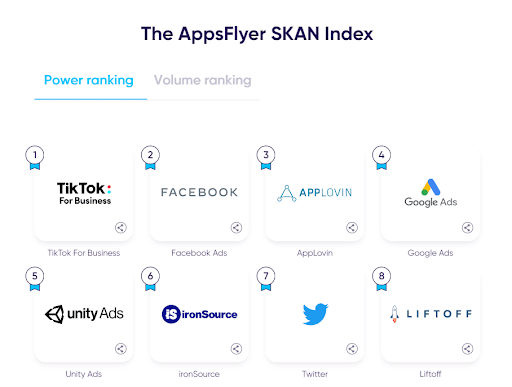 Let's review other interesting findings in AppsFlyer's latest index below.
Google Dominating Android UA, Closes the Gap in Remarketing
iOS14 came with a lot of limitations from accessing user identifiers and real-time reporting to retargeting ability. This affected all channels including Google Ads. This led advertisers to head towards Android users and spend more on Android campaigns.
Google's advertising platform is the largest in the world, and it reaches 86% of Internet users across desktop and mobile devices. With such a massive reach, Google Ads has been an essential part of everyone's marketing strategy. However, iOS14 changes also affected Google and stripped it from advertisers only targeting iOS14 users.
The good news – at least for Google – is that iOS14 only limits third-party data and tracking, but Google is playing it differently, with such a massive reach and full control of Android devices, Google decided to double down on Android.
Now Google became the dominant channel for Android user acquisition and with advertisers exploring Android user acquisition, Google Ads could be set to become even bigger.
Apple Search Ads Benefits From Access to Granular Data
Facebook ads algorithm worked very simply, it tracked user's behavior outside of the Facebook apps, built a profile of actions, then served very, very relevant ads to that user at the best time possible. This helped small businesses acquire new customers and keep their money flowing.
However, their algorithm was good, really good that every company had to use them in order to survive in such competitive times. Also, raised a lot of red flags and many tech leaders were talking about how ethical this is and how to bring users' privacy back.
Here, iOS14 introduced App Tracking Transparency (ATT) as a solution to user's privacy and to prevent excess tracking performed by ad channels – such as Facebook – without the user's consent. But, some believe that iOS14 was introduced mainly to take a big piece of the advertising cake, to limit Facebook ads, and to push another $1B revenue source to the Apple fortress. Then, and as a very last reason, for the user's privacy.
The plan actually worked and the Facebook algorithm now gets ⅕ of the data it used to get, which affected basically everyone, but mainly small businesses who aren't getting the return on investment they used to get before. This pushed Facebook Ads to the second place for iOS users in AppsFlyer's in-app purchase (IAP) index, with Apple Search Ads now at number one.
A recent report from Branch also found that Apple's ad business has more than tripled its market share in the six months after ATT was enforced. Also, it enjoys full data access because it's considered first-party data for Apple. Smart Apple.
Summing Up
The ATT rollout changed everything in the advertising ecosystem, it's now harder than ever to measure and ensure campaign success. And ad channels will have to rely on first-party data only to decrease the effect on their algorithms which means that those collecting the most data will win.
TikTok succeeded in building an algorithm that hooks users for hours to collect enough first-part data points. Now the platform is on top of the ad channels. Google did the same and leveraged their ownership of the Android Operating System and now it's the go-to channel for android ads.
On the other side, Apple Search ads became the go-to for iOS ads after taking Facebook's share of the amount advertisers spend to reach iOS users and now Facebook is still struggling to get their algorithms back on track after solely relying on 3rd-party data.
That's it for this one. Ciao!