Designing Impactful Activation Strategies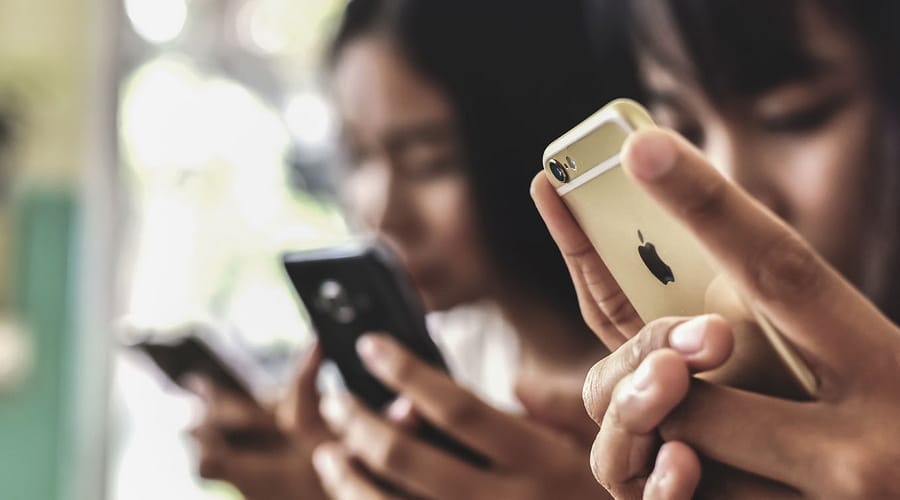 Growth professionals love to spend tons of resources and long hours optimizing their user acquisition (UA) flows. Although it brings many new users in, what happens is that a significant number of these users churn within a week or sometimes even in a day.
So, why is it like that?
The problem is that there is usually a gap between the marketing and product that leads newly acquired users to churn within a brief period. You invest in paid UA, bring new users, and when they open the app, they are being landed just on the main screen without onboarding flows or any other actions initiated. This leads them to be confused, and eventually, they churn. We need to create a bridge that takes users from the marketing touchpoint to a great experience using the product to fill this gap. In other words, this bridge represents your activation process. You need to ensure that you have an excellent activation experience that will take your users to become customers.
Framework to Build Activation Strategies
So, the question is how to create the right activation experience for our users? There are many activation strategies, but today let's talk about a framework called PNIP Pyramid, initially introduced by Reforge. So, the PNIP stands for Product, Notifications, Incentives, and People. Each of these represents the four layers of our imaginary pyramid. Without optimizing all four layers of the pyramid, your activation experience can't be efficient. It's also important to remember that all these four layers are not created equal, and for different companies, each layer can have a different impact. Let's use Calm's example to get a more broad understanding of the framework.
The Product Layer
As we said, the product is the foundation of your pyramid. This represents the essential layer of your pyramid. Moreover, there are four essential elements that you need to consider while building your product layer.
Do Experience – the action that we're encouraging our users to take.
Show Experience represents the visual elements we use to show users where to do the action.
Tell Experience – this is our tone of voice or our language to talk to our users.
Motivational boosts can be visual or language elements that encourage and motivate users to complete actions. It also can be in the form of gamification elements.
The DO Experience of Calm Product Layer
As I mentioned before, the DO Experience aims to make users take the action we are interested in. There are three categories of the DO Experience in the product layer.
Whole product experience: We allow our users to use the entire product.
Slimmed-down product experience: We hide several features to focus on the ones we want.
Customized Experience: here, the user gets a unique experience around the action we want them to take.
When we look into Calm, they use a combination of these three in their DO experience. Calm uses the Slimed down product experience to get more users to upgrade to Calm Premium. If you browse on their Home or Discover pages, you'll see that all the free content is almost hidden, and all the Experience is designed to get users to upgrade their accounts.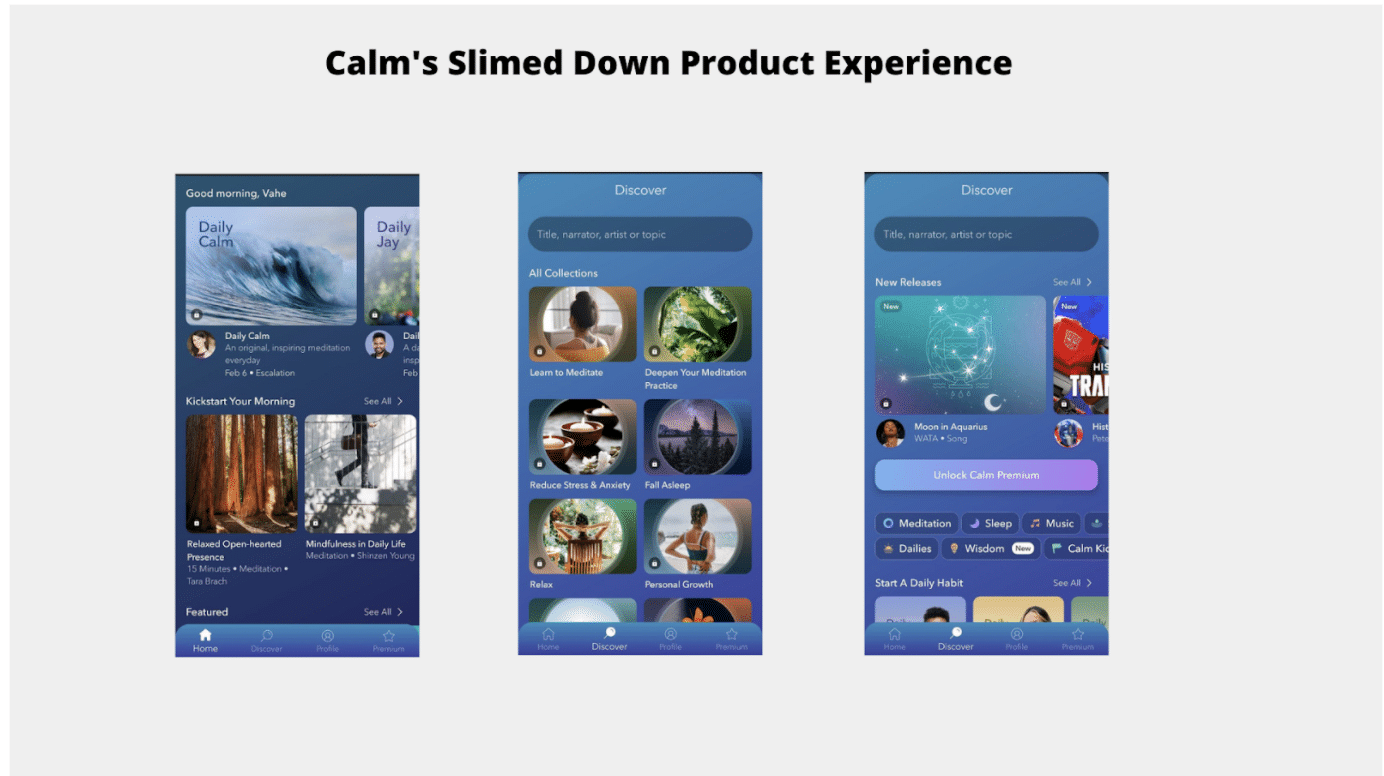 When you upgrade your free account to Calm Premium, the full product experience will begin giving you access to all the paid content. Calm also uses customized Experience in their onboarding flow, where based on your goals of using Calm,  they suggest personalized content that fits the best on your needs.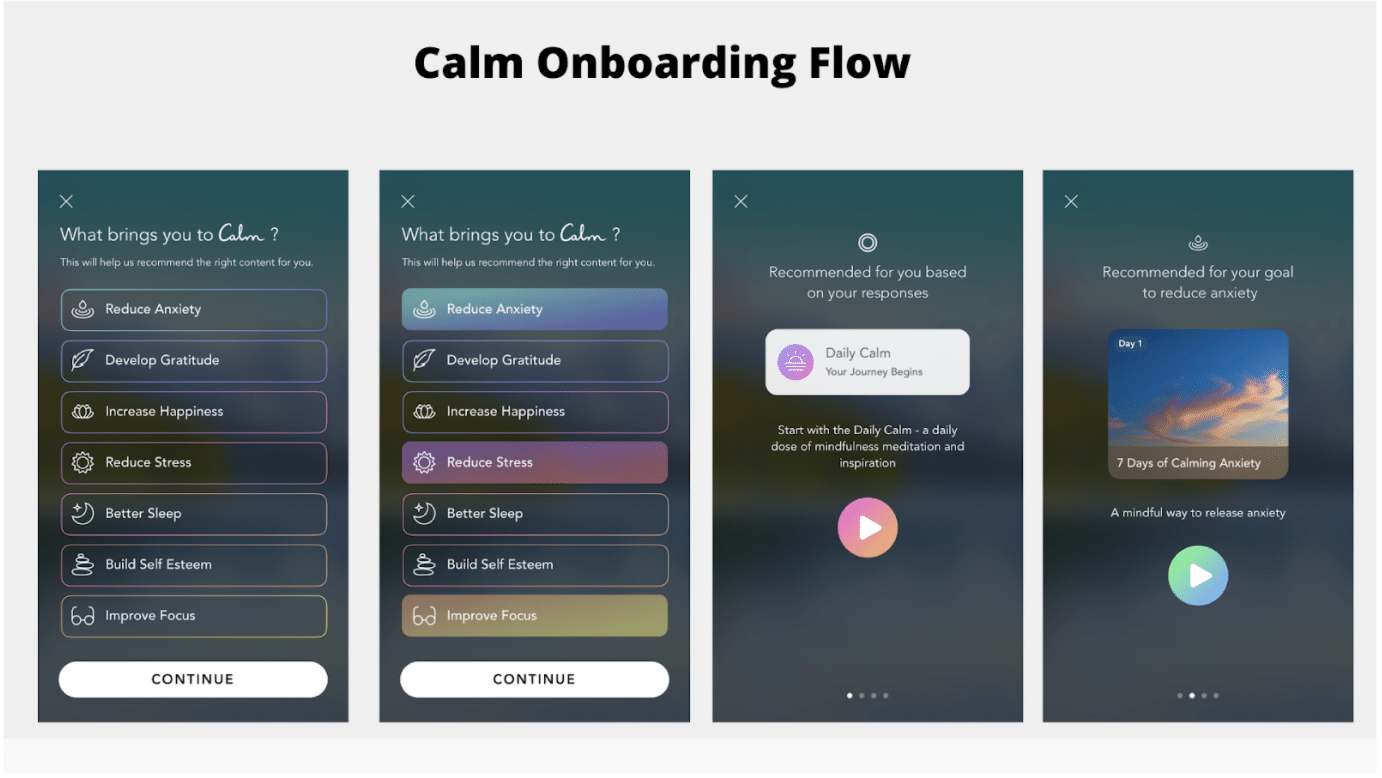 The SHOW Experience of Calm Product Layer
Calm uses several show elements in their product layers to guide their users through their product experience and upgrade their free accounts to paid ones. For this, Calm uses locker icons on various contents to indicate paid. They also use phrases such as 'New' on their newest courses to motivate users to check it out.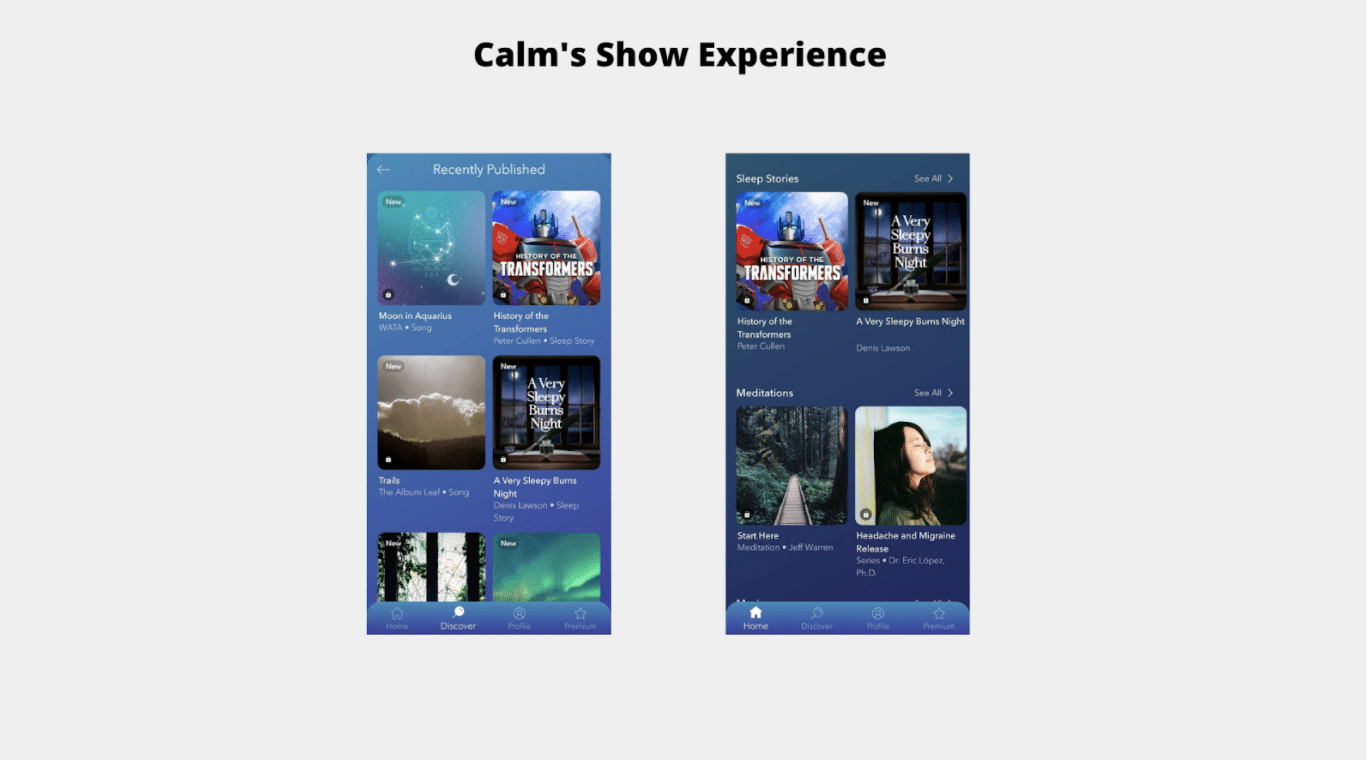 The TELL Experience of Calm Product Layer
Calm's language and tone of voice can easily be described as calm, clear, focused, and authentic. They are keeping it very measured, so their language indicates that this is a mindfulness app. They also have nature sounds in the background, so it's designed to keep you focused and in a mood of getting relaxed.
The Motivational Boosters in Calm Product Layer
To motivate users to keep using their product, Calm introduced some gamification elements that inspire them. These elements include Streaks, Goals, and Check-ins. 
The Notification Layer
The most common misunderstanding of all sorts of notifications is that if you send a bunch of push notifications or emails, you'll retain a significant number of users to your app. However, notifications are just optimizations, and they can only be impactful if they are designed right, and your product is optimized. While planning notifications, we should carefully consider four essential elements in it. 
Action – what action do we want our users to complete after tapping on our push notification?

Destination – where are we directing them from the push notification? Is the landing screen optimized enough? 

Hook – what message are we using to make them tap on the notification?

Trigger – When are we sending the notification? Is there a specific time or behavioral action?
Let's review how Calm does this again.
Trigger
One of the notification types that Calm uses is the Check-in push notification. They send daily Check-in notifications in a predefined time to check how you sleep or your mood. So, in this case, the trigger is in the form of time. Users select when they want to get sleep check-in notifications, and every day, Calm sends them messages every day.
Hook
As their tone of voice is very authentic, Calm uses simple language in its push notifications. No Disneyland, no live nude girls. 
Destination
Calm rarely lands users on their main screen, breaking the product experience. When users tap on a push notification, they land them on a specific landing page.
Action
Depending on the type of notification, actions can be different. In the case of Check-in notification, the step is to complete the check-in and tell the app how you slept yesterday.
The Incentives Layer
Incentives motivate users to keep going and complete more actions in the app. One of the common types of incentives is money, time, and status. Calm uses simple gamification techniques to incentivize users to complete more actions towards their goal. As mentioned earlier, this technique mainly includes streaks and goals.
The People Layer
This is the final and the top layer of the pyramid. These layers represent the people to support users through their activation experience and ensure that they succeed. This can be the customer support, UX researchers, and even the product managers in the Calm case. These people must make sure that our activation experience is working smoothly.
Conclusion
Activation is one of the essential experiences in your product. It should act as a bridge between marketing and product. Without a good activation flow, all marketing efforts can be ineffective, and users will eventually churn at higher rates.