AGS Berlin 2022 Panel: Guiding Your Users' Journey [Video]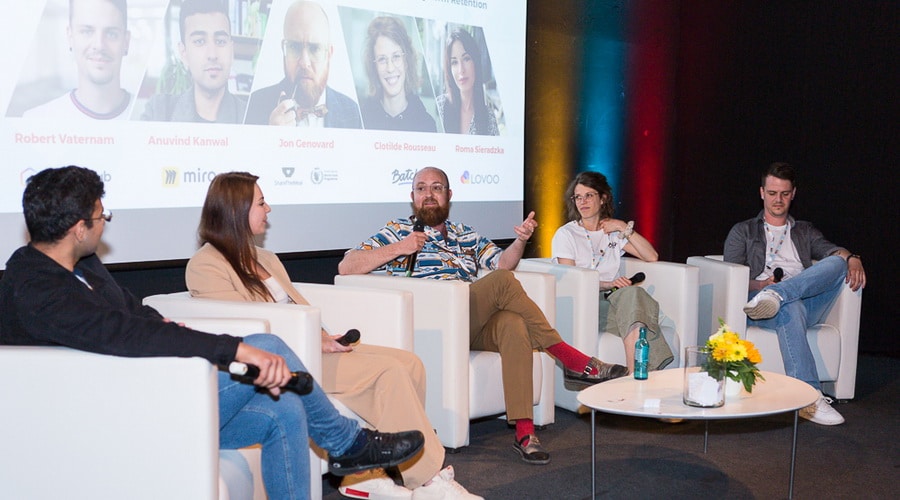 Visualizing your Users' Journey, and understanding how your Lifecycle Marketing & Engagement strategies work together to help your Users reach key in-app conversion points and are more likely to become longer retained customers is key to app growth. After UA the effort to get users to download your app, it's now time to grab the baton and run with it to limit churn and maximize retention!
On May 12, at App Growth Summit Berlin 2022 my fellow expert marketers and I discussed Marketing & Engagement Strategies to Lead Your Users to Long-Term Retention. Here are some key takeaways for creating a solid user journey strategy:
Visualize your user journey strategy
Using post-its along with whiteboards and pins (pre-pandemic of course) creates a culture of visual feedback and improvement. Now I'm using the interactive tool, Miro, but I really miss working with that physical lifecycle.
Before you engage with your users, engage with your team. Inviting key people to create the new lifecycle is really important as they will bring interesting ideas.
I use an ancient story design framework called the "hero's journey" or "monomyth" which is used in a lot of famous narratives like The Odyssey, The Matrix, and Star Wars. It's where a person starts in their comfort zone and then gets a call for adventure – in this case, someone would be scrolling through their Instagram feed and receive an ad to install an app. They feel a little lost and so the next step is the refusal of the call, but then a mentor comes – which could be an email or an in-app push – and with guidance (like Morpheus for Neo), they reach the 'aha' moment when they understand why they are here. The last stage is the return home where a user becomes so loyal that they start to tell others the story, and beginning a new cycle, becomes the mentor to new users.
As marketers, we don't own the product, we own the narrative. I think it's important that we create personalized segmentation by the archetype of the user, so we are basically architects of stories.
---
The full conversation included speakers, Roma Sieradzka from LOVOO, Clotilde Rousseau from Batch, Robert Vaternam from simpleclub, and Anuvind Kanwal from Miro.