Mobile Ad Eaters Panel at AGS London 2022, Heading to AGS Berlin 2023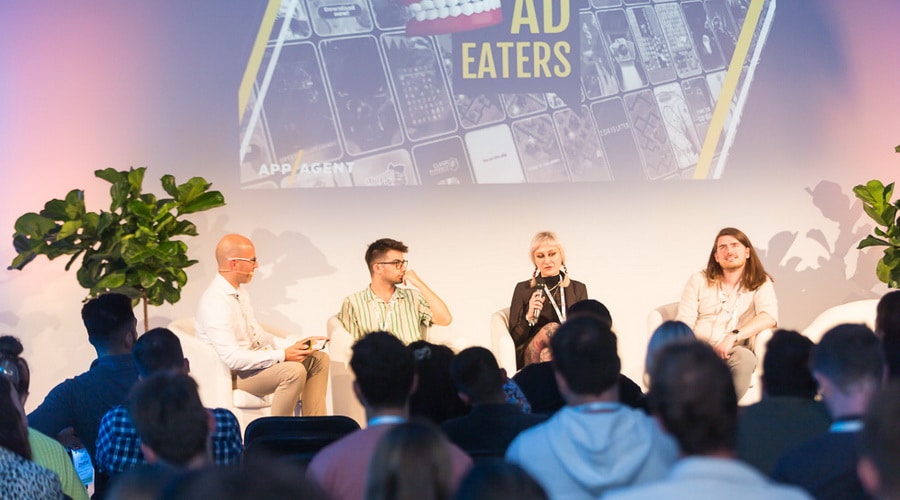 Mobile Ad Eaters is gearing up for another exciting panel at the upcoming App Growth Summit Berlin 2023. To get you excited for the upcoming event, let's take a look back at the insightful panel from App Growth Summit London 2022, where AppAgent Founder and CEO Peter Fodor had the opportunity to speak to Leyla Dolgikh (Square Enix), Jonathan Winters (Miniclip), and Aykut Subekci (Product Madness) about their best and worst performers.
AppAgent's Mobile Ad Eaters YouTube series aims to inspire mobile marketers by showcasing some of the best-performing and most creative ads in the industry. Every episode features guests from companies Rovio, SocialPoint, and Gram Games, each of whom has the chance to share their top-performing creative, as well as their insights into what makes this ad so successful.
Get ready for an engaging and informative read that will help you up your mobile marketing game. Whether you're a seasoned pro or just starting out in the world of mobile advertising, this article has something to offer. So, sit back, relax, and let's dive into the world of mobile ad campaigns with the Mobile Ad Eaters.
Try New Avenues for Sourcing Talent
There's a myriad of ways to source talent for your ads, including:
agencies,

freelance platforms, 

or simply reaching out to creators on social media. 
Sites like Cameo now allow you to connect with thousands of celebrities, many of whom can provide a personalized video message to include in your ad (for a price, of course). But because you can't audition them beforehand, you're going to have to make some assumptions about which talent is most suitable for your product. 
Content Creators Know Best
When producing a UGC-style ad, you may work with content creators who already have an established following on their platform. Unlike random actors hired by a production firm, influencers can be very specific about their talent and what they would like to do in order to be authentic. 
Freedom is an important aspect; it's always important to let creative people exercise what they're best at. As a marketing manager, you don't always have to enter a dialogue with content creators to prescribe exactly how to present your app or game. Established creators are often producing content for their audience all day every day, so in a lot of cases, they know how to best present your product.
Keep it Real
One thing to keep in mind when working with influencers, celebrities, or any sort of talent, is that they need to appear to actually use your app or game in order for audiences to engage. Today, there is an overwhelming abundance of insincere ads in which actors are simply reading a call to action from a script. An authentic "what you see is what you get" approach may be the best way to stand out from the crowd.  
Stock Footage Can Turn Off Your Audience
Although it's cost-efficient and offers a good amount of flexibility, stock footage may ultimately hinder your ad's performance. Because their artificial look and feel are so easily recognizable, audiences are immediately primed to understand that your company has purchased these assets and that they do not reflect the authentic experience of your product. Stock videos can be particularly damaging in ads for social casino games,  as they can cue viewers to think of them as a  "scam". 
But stock footage isn't always a bad idea; if it's used in small increments and fits well with your product, it may actually be valuable. 
Make Things Simple
Here's a complicated question to answer: how should one go about creating an advertising strategy for a complicated, multi-faceted game that is not readily intuitive?
Well, it can help to begin by embracing familiar scenarios that will introduce users to the landscape of the game before they enter. For strategy and role playing games, for example, you may present the fantasy world that players will act in, as well as a specific action or story.
The panelists at App Growth Summit London 2022 offered an incredible range of insights and practical tips for mobile marketers seeking to improve their ad campaigns. From discussing ways to source talent to emphasizing the importance of authenticity in ads, the panelists shared their expertise and best practices for creating successful mobile ad campaigns. View the full talk below.
---
If you're hungry for more mobile marketing inspiration, you'll be thrilled to hear that Mobile Ad Eaters is coming to Berlin on April 19-20, 2023, for another exciting panel at the App Growth Summit. Don't miss the chance to hear from industry leaders and learn about the latest trends and strategies for creating effective mobile ads, request your invite now!