SpeakHer: Creating Space for Female Leaders on Tech Stages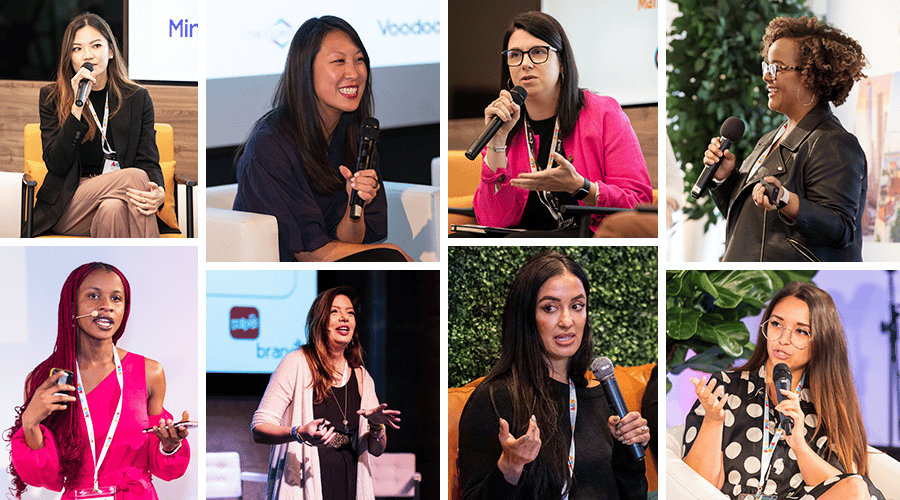 Women are underrepresented in tech conferences, and it's time to fix that. Because gender diversity matters—to everyone. App Growth Summit's 4th Annual SpeakHer Virtual Summit will be on January 26th, and in conjunction with that initiative, we felt we should explain a little on the philosophy behind why we started the SpeakHer Association in the first place! Register for the next SpeakHer event here, and sign up to be a member here!
---
Women in Tech: Where Are We?
It won't come as a surprise that women continue to be underrepresented in the tech industry. The gender gap in STEM (science, technology, engineering and mathematics) is well-documented, and according to Anitab, women currently hold only 27.6% of tech-related jobs.
You might be thinking: what does this have to do with me? Well, it matters because diversity matters— diverse teams ask more questions, think more innovatively and create better products.
Tech conferences are crucial networking opportunities for any tech worker, and the underrepresentation of women threatens their career growth and equal opportunities in the industry.
At App Growth Summit, we believe it's time to change that: women in tech deserve as much public recognition for being industry thought-leaders as their male colleagues. Let's show to the rest of the industry what a tech line-up should look like!
Why am I Still the Only Woman in the Room?
Women are making strides in the tech world, but we're still nowhere near parity. According to Exploding Topics, more than 50 % of women in male dominated environments report gender inequality, discrimination, or sexual harassment. Tech companies and conferences are notorious for being hostile environments to women, and the stress of being a minority with no role models is widely reported.
The percentage of women in all tech-related careers has actually decreased over the last two years and top level positions are mostly held by men: Zippia reports that women account for only 18% of the CIO and CTO roles in 1,000 of the largest U.S. tech companies. Being "the only one" is a common experience for women in the tech industry, and one in five say they often find themselves the only woman in a room at work. This isolating experience makes it difficult to succeed as a woman in a field typically dominated by men.
And tech conferences reflect this discrimination perfectly. According to a study done by Bizzabo in 2019, almost two thirds of speakers at tech conferences were male. And when women are invited to speak on a panel, they often find themselves being the only one: in Ensono's survey, 70% experienced being the only woman on stage. This clearly demonstrates how much work needs to be done if we want our industry to be truly diverse and inclusive.
In the same study, three-quarters of the women surveyed said they were more likely to attend a conference session, panel or keynote event featuring a female presenter or panelist, and 94% indicated that it was important to them to have female representation in keynote speaker lineups.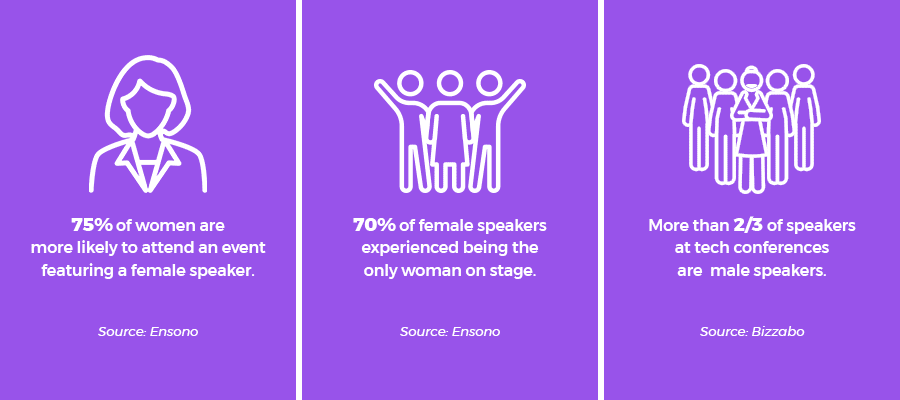 This goes to show the importance of equal representation. When we see someone like us on stage, it makes us feel like we can be there too. It makes us feel like we matter. It empowers us to speak up and take action in ways we might not have before. And it helps other women see themselves as leaders and role models, which encourages them to keep speaking up and taking action.
SpeakHer: Changing the Face of Tech Conferences
At App Growth Summit, we see equal representation as the way forward. In fact, women already represent more than half of our speakers: in 2022, 52.1% of speakers at our events were women.
But we know there's more work to be done. That's why, to build a global community of women in tech and empower them through speaking opportunities, we created SpeakHer – a non-profit organization aiming to promote gender equality on mobile app conference stages around the world. SpeakHer is a space dedicated to connect women with other like-minded individuals across the globe, find and share job and speaking opportunities, interesting content, and so much more!
At SpeakHer, we love creating speaking opportunities for women. That's why, as a member, you get first dib at being a speaker at all our forthcoming events! So, if you are interested in being part of the community, please join the SpeakHer Association here!
We want the industry to change their mind and perspective of what a tech line-up should look like, and SpeakHer is our way of actively showing our industry that it is possible to have equal representation on tech stages.

4th Annual SpeakHer Virtual Summit
To start off the year perfectly, we are showcasing the immense talent of women in the mobile app industry on January 26, at our one-of-a-kind annual event SpeakHer Virtual Summit 2023.
The event will feature an international all-woman line-up of app growth experts, from such companies as Uber Eats, Scopely, YellowCard App, Product Madness, Aperture, Bauer Media Group and more!
The SpeakHer Virtual Summit is produced via App Growth Summit's custom-built and proprietary virtual event platform, which includes many interactive features and opportunities no other online event can offer in such a cohesive way!
So, are you ready to learn from some of the most powerful and intelligent female thought leaders in the industry? SpeakHer Virtual Summit is free and open to the entire industry! Please register and join us virtually on January 26 to support these female leaders, and sign up to be a member of a SpeakHer chapter near you!