The Power of "SOFT SELL" to Promote Your App in Japan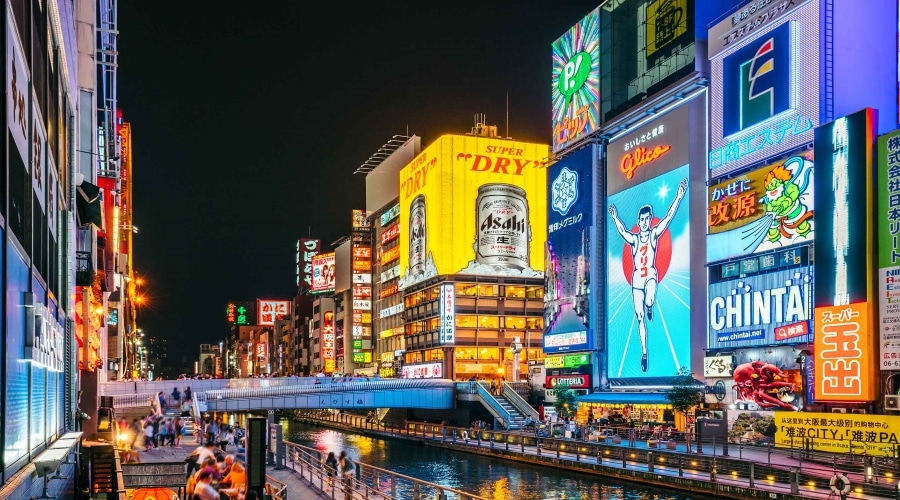 There's a certain amount of Western, or at least global, standardization taking place when it comes to marketing approaches. Whether you're in Europe or America, many companies, especially those with an international brand presence, will use similar communication methods and centralized brand messaging that tap into customers' universal wants and needs.
However, Japan has always been a very peculiar market. While you might see brands, like Adidas or Nike, in Tokyo, New York, and London their marketing will often take a completely different approach in the Japanese market. I attribute this to the power of the soft sell in Japan.
The Japanese 'SOFT SELL'
In marketing, a soft sell is an advertisement or campaign that uses a more subtle, casual, or friendly sales messaging. An important reason why soft selling is so different in Japan is that it caters to a completely different consumer mindset than what you may be used to.
Some key consumer characteristics that influence the ways brands promote themselves in Japan through soft sell are:
Japan is a homogenous nation with little ethnic or racial diversity and a strong sense of collectivism.
The Japanese love for Japanese brands often wins over interest in foreign brands.
Japanese consumers are highly educated and have a strong desire for information.
Japan is an old nation with a large overall purchasing power.
Appearances and aesthetics are highly valued in Japanese society, even if they're not realistic.

Soft Sell vs Hard Sell in Japanese App Marketing
Japanese App Marketing utilizes both soft and hard sell methods, however the soft sell approach is more prevalent in Japan than in Western markets. There are several key differences between these two approaches: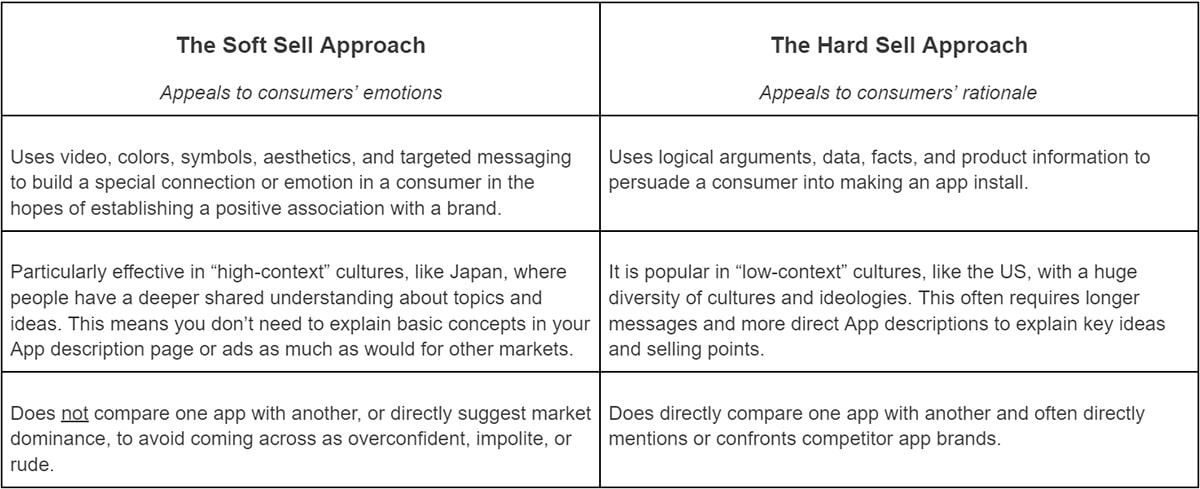 This is why the soft sell marketing approach, which caters to cultural and contextual preferences, results in Japanese consumers being more receptive towards soft sell marketing.
This does not mean Japanese consumers don't respond to hard sell marketing. Japanese consumers appreciate having access to technical content and information about products, as long as this information comes across as transparent and accurate rather than embellished with exaggerations. Since this information is easily-accessible via PR product pages, websites, and other platforms; brand awareness can be generated through more eye-catching marketing creatives and approaches.
A few popular standout elements often utilized in Japanese soft sells are:
The Cuteness or Kawaii Factor
Many Japanese companies put out advertisements that come across as cute, childlike, and vulnerable, but establish that all-important connection with Japanese consumers. This is nearly the polar opposite of the strength, superiority & sexual undertones often used to achieve the same effect in Western advertisements.
Fantasy elements that are somewhat detached from reality are incredibly popular in Japanese marketing. This is made possible by people's appetite for animation and manga, where virtually any concept can be illustrated by talented Japanese graphic artists.
Symbolism & Seasonal Marketing
Japan's national holidays and seasons frequently impact the advertising approaches taken by clients. In a highly homogenous high-context nation, linking promotions, commercials, and product development with seasonal themes is a popular and effective approach.
The Cuteness or Kawaii Factor
The appeal of Cuteness seems to reach another level in Japan; so much so that it's normal for brands to add a cuteness factor to their brand image. For example, several brands have adopted their very own cuddly company mascots. Many domestic and global businesses have found success in leveraging the power of cute and charming branding by tapping into Japan's world-famous Kawaii culture. Eye-catching app icons, adorable animations, cute UI design and screenshots, and more have become ingrained components of Japan's ASO landscape.

Detachment From Reality
Modern Japanese advertising and design tend to present a unique ethnic style. Traditional Western advertising is more strategic and marketing-oriented, but Japanese advertising is heavily media-oriented. As a result, much of the time one might spend on strategic advertising campaigns in the West would instead go towards trying to garner as much media attention as possible in Japan. This is why people often enjoy the look of Japanese advertisements even if they don't completely understand a product or its function(s).

It's important to note that Facebook and Google are not the ruling marketing channels in Japan anymore. Rather, TikTok and Twitter have quickly become popular platforms for younger Japanese consumers. There are tons of App marketing channels to experiment with advertising on which offer creative flexibility, ad format resonance, stronger targeting, analytics, and at a net-cost efficiency greater than the multinational app marketing channels. For example, check out Smart News, Yahoo! JAPAN, niconico, local media outlets, and many more.
Seasonal Marketing Trends in Japan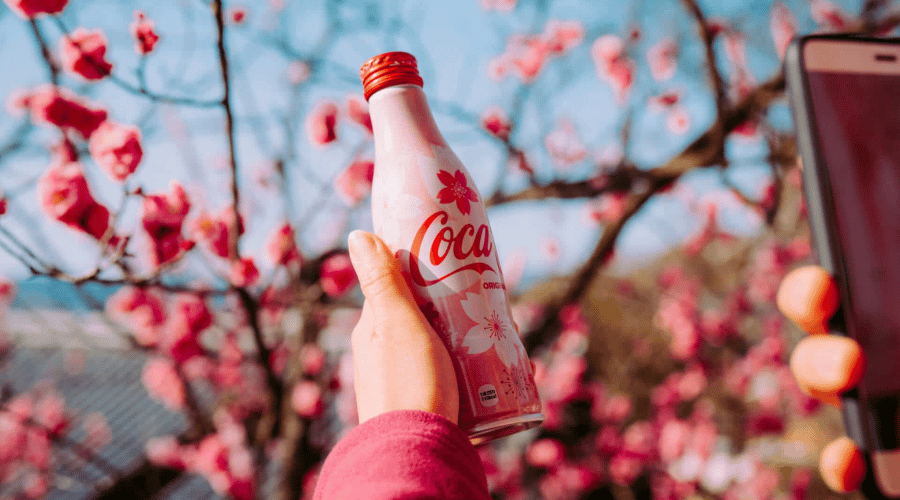 Seasonal marketing is huge in Japan, with spring and cherry blossoms (Sakura) being one of the most leveraged themes in product promotion and marketing. It's hard to go wrong with incorporating the rare beauty of cherry blossoms into your UX design or app store screenshots. There's no doubt that each season brings with it a unique aesthetic, the essence of which is extracted and utilized by many brands. Tapping into these seasonal marketing trends requires the use of relevant color schemes, images, and messaging that celebrate each important season or holiday.
Spring Marketing Trends
Sakura (cherry blossoms)
Bright colors
Flowers and nature
A sense of new beginnings and opportunities
Summer Marketing Trends
Traditional celebrations and festivities
Something "refreshing" to cool you down
Scenes of giving and friendship
Autumn Marketing Trends
Warmth and coziness
Autumn leaves
Fireworks
Colors of red, orange, and yellow
Winter Marketing Trends
Family gatherings and special moments
Luxury and indulgence
Christmas and New Year's festivities
Fairytale scenes

Final Thoughts
While the soft sell marketing tips outlined in this article can help you create user-focused content that is contextualized by the Japanese marketing landscape, remember that you will still need to have a firm grasp of your target demographics' likes, needs, and interests. Carefully consider which app marketing approach(es) will have the greatest impact on your target consumer before launching advertising campaigns in Japan. Despite its national homogeneity, the Japanese consumer landscape is still highly segmented, and each segment will require a great deal of personalization in order for your marketing efforts to be successful.