These 5 Publishers Are Dominating The Hyper-Casual Games Market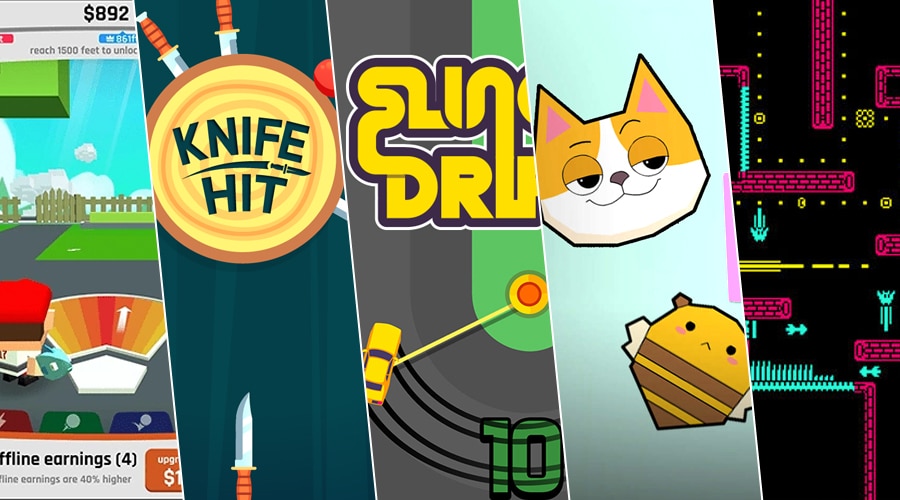 Hyper-casual games are a major development in the fast-paced mobile industry. We take a look at the publishers who are shaping its future.
The mobile games industry is fast-paced, highly profitable, and ludicrously competitive. It's also a market space where trends develop and flourish in a surprisingly short span of time.
Hyper-casual games are an important example. A recent evolution of the casual gaming field, hyper-casual refers to minimalist games which emphasize simplicity in their design. Titles in this genre can be played immediately – often using a single tap interface – and tend to be highly engaging and infinitely replayable.
From a business perspective, hyper-casual games can be developed cheaper and more quickly than their mobile counterparts. If marketed effectively, that means hyper-casual releases produce a massive return on investment, even when they can't compete financially with established genres. In the short-term, advertising is often enough to generate profits without relying on microtransactions, which can then be invested in new releases.
And there are many, many new releases. The biggest publishers in the hyper-casual space can launch hundreds of games in a few short years. One prominent company, Voodoo, was able to launch 14 different games on iOS in November 2017 alone.
Given the competitive nature of mobile publishing, that means the number of hyper-casual gaming studios has exploded at an incredible rate. Here are just a few of the major players to watch in the coming months:
Voodoo
While there are many hyper-casual game companies in today's market, few are as successful as Voodoo. The studio first launched as a developer in 2013, eventually expanding its operation to publish games for other creators. Its expertise in user acquisition, monetization, and data analysis allows it to take on financial risks that indie developers can't always afford in the competitive market space.
On this score, Voodoo's record speaks for itself. The company published 29 iOS games in 2017 alone, 11 of which reached Apple's Top 10 Apps rankings. In June 2018, Voodoo's games accounted for 24.7% of all free downloads. Focusing on hyper-casual games specifically, that accounts for 57% of the genre.
Its success even attracted the attention of Goldman Sachs, who recently invested $200 million in the publisher. Voodoo co-founders Alexandre Yazdi and Laurent Ritter maintain majority control of the company, and will use the investment to double their staff to 150 employees, develop new messaging tools, and expand the scale of the company.
Ketchapp
Voodoo may be a rising star, but Ketchapp is the company that started it all. This developer was the hyper-casual pioneer, capable of quickly launching variations of popular mobile games. As of writing, Ketchapp has 190 games on the Android and iOS storefronts, including Jelly Jump, Run Bird Run, and ZigZag.
The studio famously developed an app which tapped into the fidget spinner craze, gathering 7 million downloads and earning $57,000 per day at its height. In 2016, Ketchapp was acquired by French Triple-A games publisher Ubisoft, allowing the company to publish licensed games like The Tower: Assassin's Creed and Prince of Persia: Escape.
As the hyper-casual genre becomes more competitive, Ketchapp is having to fight for its place in the market. Last May, the studio had two Top 20 games during a single week but didn't manage to break the Top 10. But Ketchapp certainly shouldn't be counted out – in its Q3 2018 sales call, Ubisoft reported the developer saw revenue growth of over 100% year-on-year. It seems Ketchapp's prolific game launches and access to Ubisoft's resources continue to bear fruit.
Tastypill
At first glance, Tastypill doesn't seem like a dominant force in hyper-casual gaming. It doesn't have the highest totals in downloads or revenue, or publish games as frequently as others on this list. And yet, you can often see at least one Tastypill game on the App Store's Top 100 list since company launched in 2015.
Tastypill is a relatively small developer and publisher – consisting of less than 10 employees – yet its presence is keenly felt in the mobile space. The studio often experiments with trends just as they are taking hold while marketing them to large audiences. For example, Tastypill claims to have produced the first fidget spinner game just before the trend flashed and faded in 2017. Now it's embraced the hyper-casual space with everything from minimalistic arrow-shooting games to bottle-flipping challenges. Its latest game is Sling Drift, a well-designed endless racing game where players try to drift around corners as quickly as possible. Months after its release, it still sits comfortably among Apple's Top 100 free apps.
What Tastypill lacks in launch volume, it makes up for in consistently strong releases and a steady stream of ad revenue. If nothing else, it's proof that small businesses can still be major players in the industry.
Lion Studios
Lion Studios is a newcomer to the hyper-casual gaming scene, but one that punches well above its weight. Founded just this year by marketing platform AppLovin, this games division aims to bring its user acquisition and app promotion skills to games publishing. So far, it's proved quite successful in a remarkably short span of time.
Lion Studios has 15 titles under its belt from various developers, including Happy Glass, Ultra Sharp, Draw In, and Love Balls. By July 2018, it boasted four #1 free App Store titles, 13 Top 10 apps, and 16 Top 20 games. If this holds, Lion Studios could easily have the growth potential of Voodoo or Ketchapp, and would be a worthy competitor of both.
Playgendary
Many mobile gaming studios formed to capitalize on the hyper-casual market, but some established studios also adapted to the trend. Playgendary is one example – the studio's portfolio has boasted a wide range of casual, idle, and multiplayer games with millions of players.
As the hyper-casual genre began to take off, Playgendary tested the waters by launching Tomb of the Mask. This minimalist game uses procedural-generation technology to create unique, visually distinct dungeon mazes that are easy to navigate, but difficult to master. Tomb of the Mask launched on June 25 – as of writing, this game is currently the #1 free app in the iOS App Store. And unlike some popular hyper-casual games, this title enjoys critical acclaim from reviewers and game journalists.
Based on Playgendary's history, the studio will continue to offer a diverse mobile games line-up. All the same, its next hyper-casual game should be worth following closely.
Success in the hyper-casual gaming market isn't easy. You must be able to design a minimalistic, yet engaging game that stands out from the crowd, and have the user acquisition resources to promote it effectively. All the same, the popularity of hyper-casual titles suggests this genre has great potential – and that mobile gaming continues to evolve in exciting ways.
More than anything else, hyper-casual success depends on a powerful marketing funnel, and that happens to be something we know a thing or two about.
Download the free Tenjin whitepaper – Hyper-Casual Games CPI Benchmark Report to learn more!