Master The Process of TikTok Creative Testing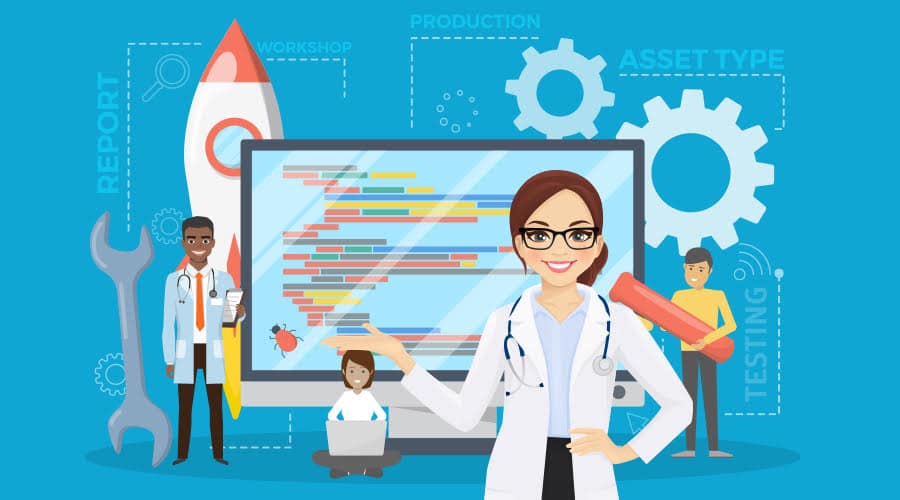 If you've spent at least one week with a TikTok addiction, you're probably well aware that the algorithm works at such a level of sophistication to never show you the same video twice and that the trending challenges and dances change every few days. Check out this TikTometer video that captures just how quickly trends come and go. The ads algorithm works in a similar fashion. As an advertiser, it makes finding a creative hit challenging and frustrating but of course, extremely rewarding.
So how can you enhance your testing process to make the most of your advertising dollars and keep up with the TikTok algorithm? Report, workshop, produce, test – rinse and repeat.
Report
Find out what creative attributes matter most to your team and set up a standard naming convention so that you can easily report on your ads performance. Let's use a real KFC TikTok ad as an example.
First, marketing and creative teams should align on which ad attributes they believe have the most weight on performance so that they can eventually master producing what goes into a creative hit. (You'll see this play out in the workshop section) The teams should set up a shared workbook to track each attribute. Here are some important ones to start with:
Asset type: is the ad a video, static, gif or playable?
Ad style: think motion or graphic design style. For example, is it 2D, 3D or animated?
Visual theme or sub-theme: holiday, gameplay, native, influencer, etc.
Sound: music genre, voiceover, no sound, etc.
Other trackable attributes: messaging, length, dimension (if you do a lot of resizing, it might be worthwhile to compare the performance of your portrait vs square vs landscape assets. You may find that you can actually reduce creative output with fewer sizes, or vice versa.)

In the example above, each cell in row 2 concatenates into a full ad name. Note that in this example, column A refers to an ID – it might be worthwhile to assign some sort of ID to each creative to easily match/vlookup to this master tag file when you pull performance from either the UI or your reporting tools. Especially if you end up needing to change a certain tag or to add more attributes.
Tips:
Only 1-2 people should own the tagging of ads for consistency (typically a marketer)
Make sure the marketing team aligns with the creative team on tags (afterall, creative needs to understand what they're specifically doing that is working vs what isn't – this will become more apparent in the workshop section).
Don't bite off more than you can chew – start somewhere
a) Between creative and marketing you'll probably have over 20 attributes that you'll want to track (dimension, asset type – static or video, colors, intro, outro, length, branded vs non-branded, treatment, etc.) but stick to a reasonable amount. Remember that whoever is going to be in this doc is going to have to fill these details out for every single ad.
b) It'll be easiest to follow a standardized naming convention for your brand new ads, and then work your way through tagging historical ads over time.
Prepare for the workshop by pulling in creative performance of each attribute to your KPI. This is probably the most time consuming part, but is crucial to do so that you can guide the conversation during the creative brainstorm and eventually create a meaningful production plan.
To start, pull back all time ad performance (current year or latest 3-6 months work too. Essentially whatever time period you think will give you the most meaningful read on the data and exclude a honeymoon period if there was one.) Let's continue with KFC and dive into the performance of some of the attributes within the TikTok ad and compare performance against other (made-up for purposes of this example) ads.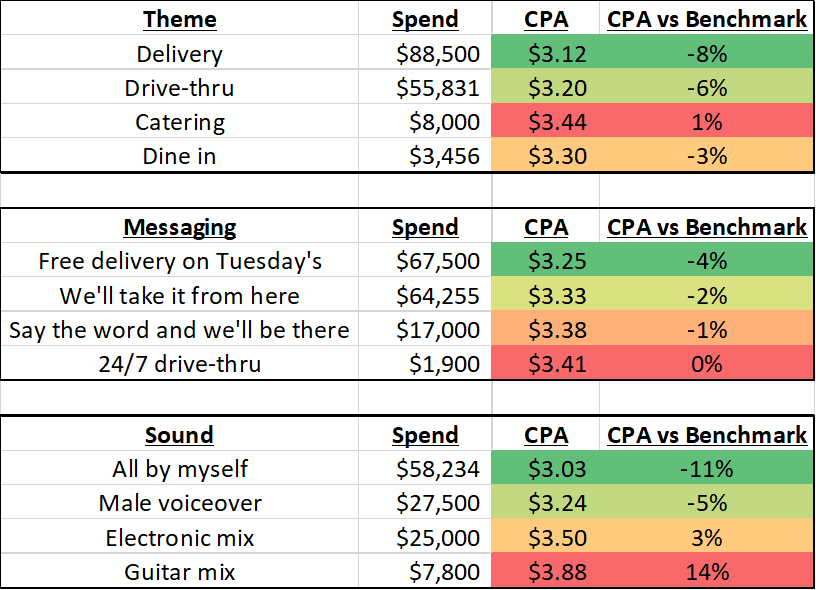 *Data illustrated above is not real and used for purposes of this example only.
Ultimately we care about scaling our campaigns, that's why we're sorting by spend. You're not going to let a high CPA ad spend so much that it ends up accounting for >~30-40% of your total channel spend (which is likely what you'll find on your top performers), so rather than sorting by your KPI or other vanity metrics, make sure to sort by spend.
It might be helpful to tier your reports for your creative workshop illustrated below.
Tier 1 = the best of the best, you know this works because it scaled.
Tier 2 = your baseline hits, they scaled but not to the degree of tier 1.
Everything else is tier 3 and for whatever reason, didn't scale. Don't spend too much diving on what didn't work, and focus more on what did within Tier 1 & 2.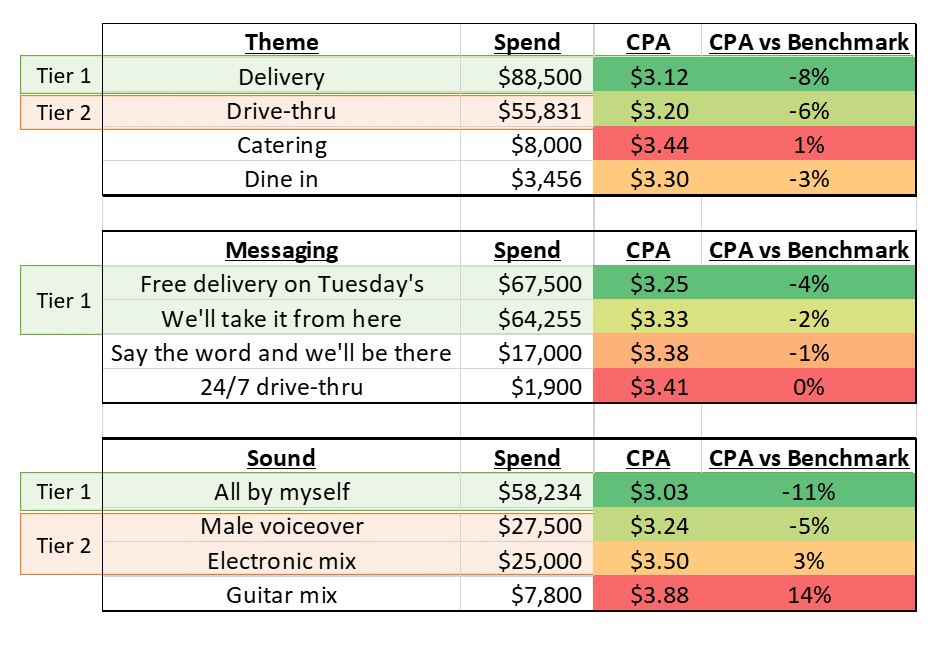 *Data illustrated is not real and used for purposes of this example only.
Another interesting data point you might consider adding is the count of unique ads tested within each attribute. It's very likely that there exists some sort of undefined inflection point that the more ads you test, the more likely you are to find a win. So in the example above, it's likely that within the theme, dine in hasn't had as many ad tested than delivery or drive-thru has.
Workshop
Unless your creative team likes to see the numbers, you should just summarize your findings into a deck like an example below.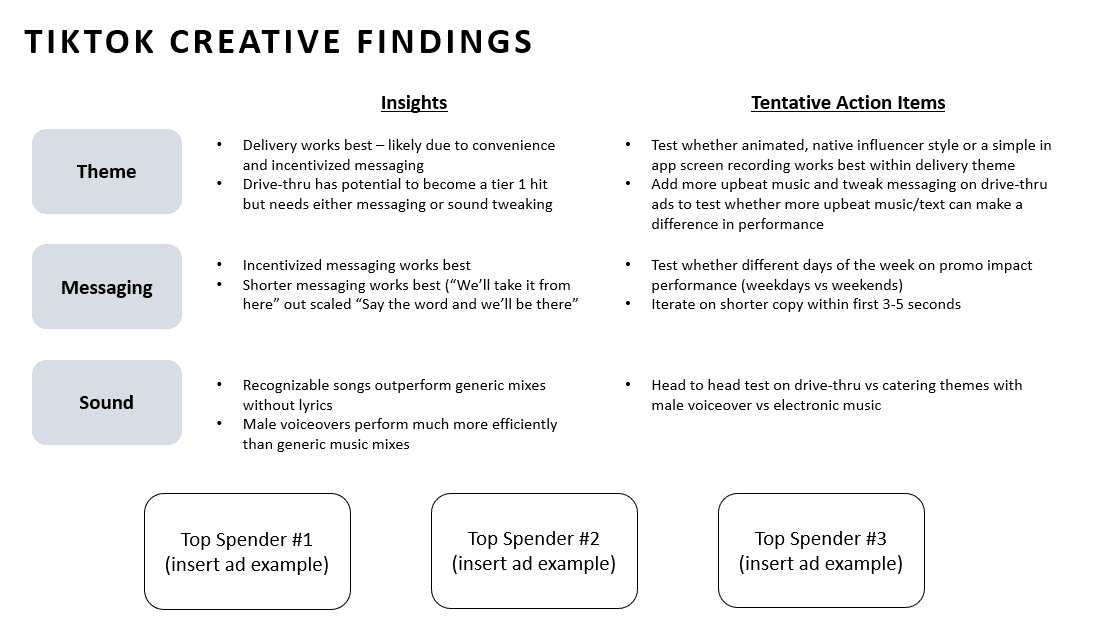 For apps, you'll likely find that the more natural, organic feel content works best. If you can move quick enough on production to stay on top of the challenges and trends on the organic side, there's definitely a chance you'll see a lot more success because your videos won't stick out as actual ads. But don't make this your sole focus because of how quick challenges and trends do come and go. If your brand team runs your organic account, maybe have them focus more on challenges and trends there rather than on your ads.
For games, a lot of split screen, or what TikTok calls "duet" videos perform really well. It's likely you'll find that featuring gameplay will be key. We typically see about 90% of our top spenders have some gameplay in them. If you work with content creators to make native influencer style ads then make sure you test at least one version with some incorporation of gameplay.
Additionally, competitor research will add a lot of value in your discussions. Pick a couple competitors, or other advertisers that you admire and use them to draw inspiration. TikTok doesn't yet have their equivalent of a Facebook Ads Library, but you can ask your rep for creative examples, or even use Facebook Ads Library or any other competitive research tool.
For each idea that comes out of the workshop, create an objective and hypothesis and track the results as you test. Maybe you use the master tagging file, or some other sort of shared workbook.
Tips:
Run creative workshops at least once a month (ex: end of month to plan for following month).
Include all relevant stakeholders (creative & marketing teams).
Search TikTok for your and your competitors names to draw inspiration from organic content creators – you can even reach out to them to see if they're interested in working with your app! Split the workload of competitor research with creative leads.
Production
Create a game plan for the month and have the creative team stick to the script. In other words, wait to produce iterations (like "Buy now vs Download now on messaging) until you know what works. Focus on net new ideas and then iterate based on what is working. Start with portrait and make sure it's optimized for sound on. Landscape and square are acceptable in TikTok too, but portrait will feel most native. Remember that if you find a win with a portrait video, unlike UAC where resizes help lengthen scale, resizing to landscape and square usually won't do much in TikTok since the same ads don't get served more than once. If you do resize, add some sort of variation to the intro. Remember how quick the algorithm works and keep that in mind as you plan. You don't need to produce anything over the top, it should be about the quantity of ads tested more so than quality.
Share TikTok's best practices with your creative team and start an ongoing list that's specific to your account best practices. Do you find those native ads that look like regular TikTok's perform best? Is there a specific CTA or more upbeat music that is a commonality between creative hits?
Test
Everything up to this point is in your control: your tagging, reporting and test ideas, but now you're throwing your ads into "the wild" and ultimately have no say in whether they become a hit or not.
There are so many different ways to test new creative in TikTok. You can run an auto creative optimized ad set (equivalent to Facebook's dynamic creative optimization), set up a new creative testing campaign, serve in a dedicated ad set, or serve in existing ad sets and campaigns. At this point, it's good to recall the TikTometer video from the beginning of this post. The algorithm works incredibly fast to the point where when you do find a win, it will only last you up to a week…max, and that's if you're lucky. The screenshot below indicates a creative hit where spend shot up and CPA dropped, but this only lasted for ~5 days. So depending on how you choose to test, keep that in mind.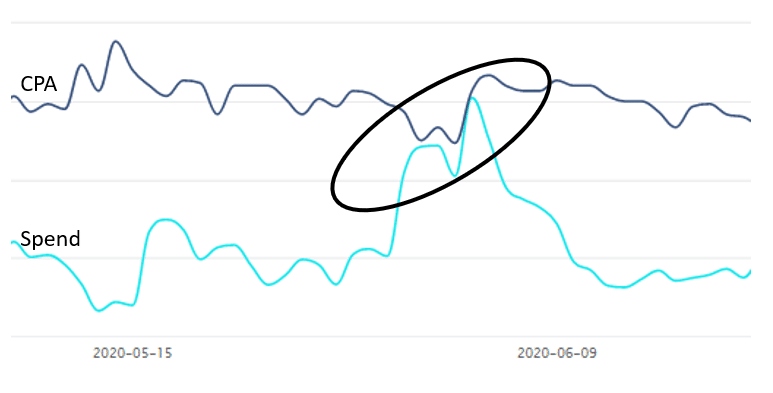 Create a plan! Maybe you launch new creative on Monday's, read out performance on Tuesday and by Wednesday, you decide whether to continue to gather data, pause it or scale it up. Again, remember how fast the algorithm works, you'll pretty much know if it's a creative hit or not within the first ~3 days.
It's also not unusual that if you have more than 1 creative (say 4+ ads) in an ad set, that majority of spend will only fall to 1-2 ads. If and when that happens, be patient and move slower through your creative backlog. Or get hacky with it and launch single creative ad sets at low budgets. This is also another benefit of dedicating a separate creative testing campaign in TikTok because new ads in existing evergreen ad sets might not spend at all.
As you find wins, move them into evergreen! Though it might be a best practice to not pause wins in your creative testing campaigns (if that's the route you go) and let them ride out their performance there. It's also not unusual for ads to not perform as well in evergreen as they did in your testing environment once they get moved.
Tips:
Dedicate as much budget as you can to creative exploration.
Try restarts at higher bids and lower budgets if you can't get your new creatives spending.
Push on creative wins as much as possible. In the periods when you're hitting your KPI and spend is increasing on a single creative, push it everywhere. On TikTok you can increase budgets by up to 50% at a time so maximize the efficiency while you can.
Summing Up
In order to truly master the TikTok creative testing process, you need to stay on top of a schedule to regularly report and workshop through historical performance to find similarities of what has worked in the past. And if you're just getting started on TikTok, first use top performers from other channels that you think look most native to TikTok. If you're finding yourself beating your head against the wall because nothing is working, then try something brand new or ask TikTok for some recommendations.
Always keep in mind that the algorithm works at lightning warp speed. If you can accept that a creative that takes off as your top performer today, will likely not be your top performer tomorrow, you'll eventually build a fast pace creative cycle and use this approach to guide your production and testing process.