Best of App Growth Summit 2018!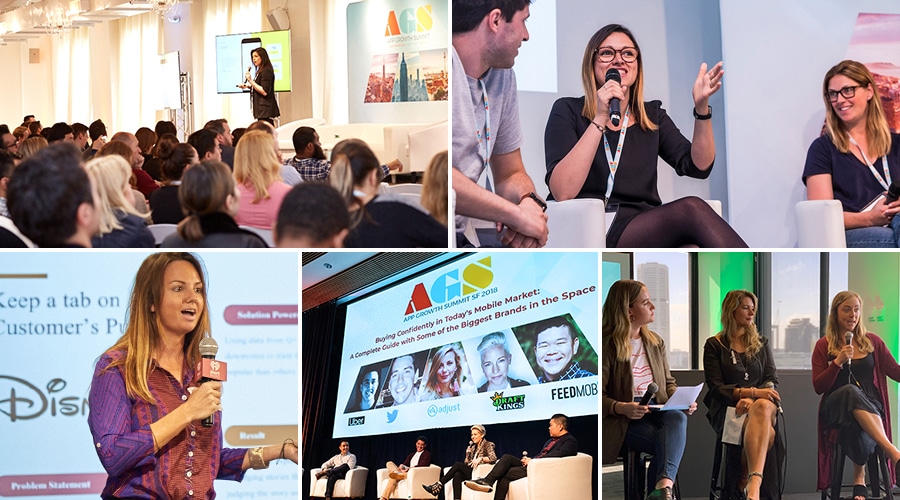 First off, a gigantic special THANK YOU to all our attendees, sponsors, and speakers! Without all of you, we couldn't have had such a successful first year. Our promise as a company: We will be fully transparent, committed to excellence in every way, and will never change from our key differentiators which are: Invite-Only Events, Limited-Vendors, Audience Capped for maximum attendee experience, and Gender Equality on stage and in leadership. Other event series like to put women in press releases, but we put women on stages. We will also leave all our Previous Events on our website so anyone can check our speakers rosters, gender equality, quality of content, and that we won't duplicate speakers en masse. We're proud of what we've done in the past, so we don't erase our events once they're done. We leave them there for anyone to check out…and please do! We had some great stuff in 2018, and want you to see it, so you can know to join us at an event near you in 2019!
Our 2018 App Growth Summit Event Stats:
5 Events in North America, Europe and APAC.
1,449 total attendees experienced at least one events in 2018.
Average vendor count was an industry lowest of only 22.5% of attendees.
Our gender diversity was also easily the highest ratio of women speakers with an average of 55% women speakers across our events.
No other conference series had this limited number of vendors and highest percentage of expert women on stage. Our inaugural year proved the concept that these types of highly-curated, limited-vendor, very inclusive events are a fresh offering to the industry and the buzz we have going and growing into 2019 is very exciting, encouraging, and will challenge us to keep it up and keep improving!
Our 2018 Event Statistics:
Attendees: 324
Vendors: 24% of Audience
Gender Diversity: 53% Women Speakers
Highest Rated Sessions:

"How to Kill A Start-Up: A Step-by-Step Guide on What NOT to Do" by Yasmine Akermark, Founder, Sharehive
"The Young & The Brandless" by Gabriella Mirabelli, CEO & Founder, ANATOMY Media
Our first event was a sold out event in beautiful Midtown Manhattan! We capped everything off with a fundraiser red carpet reception for Women In Wireless! The event featured the majority of speakers being high powered women experts, and a highly engaged and very diverse audience throughout the day. We couldn't have asked for a better way to kick off the year!
Attendees: 306
Vendors: 22% of Audience
Gender Diversity: 34% Women Speakers
Highest Rated Sessions:

"What Games Can Learn from He-Man" by Sophie Vo, Executive Producer, Rovio
"How to Deal with Adwords UAC – Hands On" Workshop by Maria Brigida Deleonardis, Lead User Acquisition, Free2Move
Our first international event broke new mobile conference ground by being the first two-in-one mobile app conference. Day 1 featured Mobile Apps, while Day 2 featured Mobile Games. The audience was filled with experts who loved the fresh vibe of the super low vendor count and highly curated content offering.
Attendees: 68
Vendors: 11% of Audience
Gender Diversity: 83% Women Speakers
Highest Rated Session:

"Push It Real Good! Push Notification Strategies for Better Retention/Engagement" Panel featuring Taylor Gobar, Senior UA Manager, Hopper, Tricia Morizio, Senior Product Manager, Mobile, Verizon, and Grace Pratt, Sr. Marketing Specialist, StreetEasy
Our first half-day mini-summit featured 10 of the 12 speakers being high caliber female speakers leading the way. A solid and growing NYC community come to join the after work event. The audience size was perfect to get some great post-work day learning and networking time in.
Attendees: 579
Vendors: 26% of Audience
Gender Diversity: 45% Women Speakers
Highest Rated Session:

"Mind Games: How to Leverage Consumer Psychology" by Dina Chaiffetz, Director of Product Strategy, Prolific Interactive
Liftoff's Mobile Heroes Publisher-Led Roundtable Discussions
Our largest event of the year saw a massive offering of content options which resulted in a very engaged audience due to the variety of sessions and rooms. In addition to the main stage, and our standard Experts' Corner presentations, we also featured hours of actionable workshops, and publisher-led roundtable discussions. We even featured a never-before-done Build Your Personal Brand activation, organized by Liftoff, which helped audience members get new headshots, LinkedIn advice, and blog ghost writing consultation.
Attendees: 138
Vendors: 29% of Audience
Gender Diversity: 61% Women Speakers
Highest Rated Session:

"Falling in Love with Robots" by Rachel Beeton, Marketing Director, Audible
"Mobile App Performance Marketing Landscape" Panel featuring Anna Cheng, AP Growth, Spaceship AU, David Burke, General Manager – APAC, Impelus, Josh Jang, Regional Director – Korea and Southeast Asia, Adjust, and Kate Newcombe, Senior Sales Executive, Snapchat
We capped off the year in style, overlooking beautiful Sydney Harbour from the 23rd floor of the expansive and impressive Impelus offices. Largely ignored as a viable mobile app market, we showed that Australia wasn't just an A/B testing ground for UA campaigns. The mobile app market is vibrant and growing down under, and the success of this industry-first event in Sydney proved it!
---
What's Coming Up in 2019?
Since other conference series have seen what we're doing and trying to keep pace, we've got a full slate of brand new ideas, offerings, and industry firsts planned for 2019 AND 2020! Wait until you see where we're going! We're just getting started! Join us at and event or two (or more!) near you in 2019!
We'll be expanding our Mobile App Growth Conference Series to add Los Angeles, Seattle, São Paulo, and Singapore in 2019! We'll also be increasing our Original Articles publishing to weekly articles (if you'd like to contribute, please Get Involved!), and we'll be producing quarterly Virtual Sessions as well!
2019 App Growth Summit Event Calendar:
Request Your Invites Now!
As you have read, all our events are Invite-Only, and Limited-Vendors. If you would like to attend any of these events, please Request An Invite to the one closest to you, and maybe we'll see you in 2019!!
—
Thanks once again to all the amazing Speakers, Sponsors, and Attendees who have been there throughout our first year, and have helped us prove the concept that what we're doing here is unique, and much needed for the industry. See you all again in 2019!!!